Best Lake Camping in Arizona
The best lake camping in Arizona isn't too hard to find. Find many beautiful, enjoyable choices around the state.
Of course, it depends on what type of campsite you prefer. And what amenities you'd like at the site or campground? There's a wide variety of tastes in camping. Plus a wide variety of camping methods.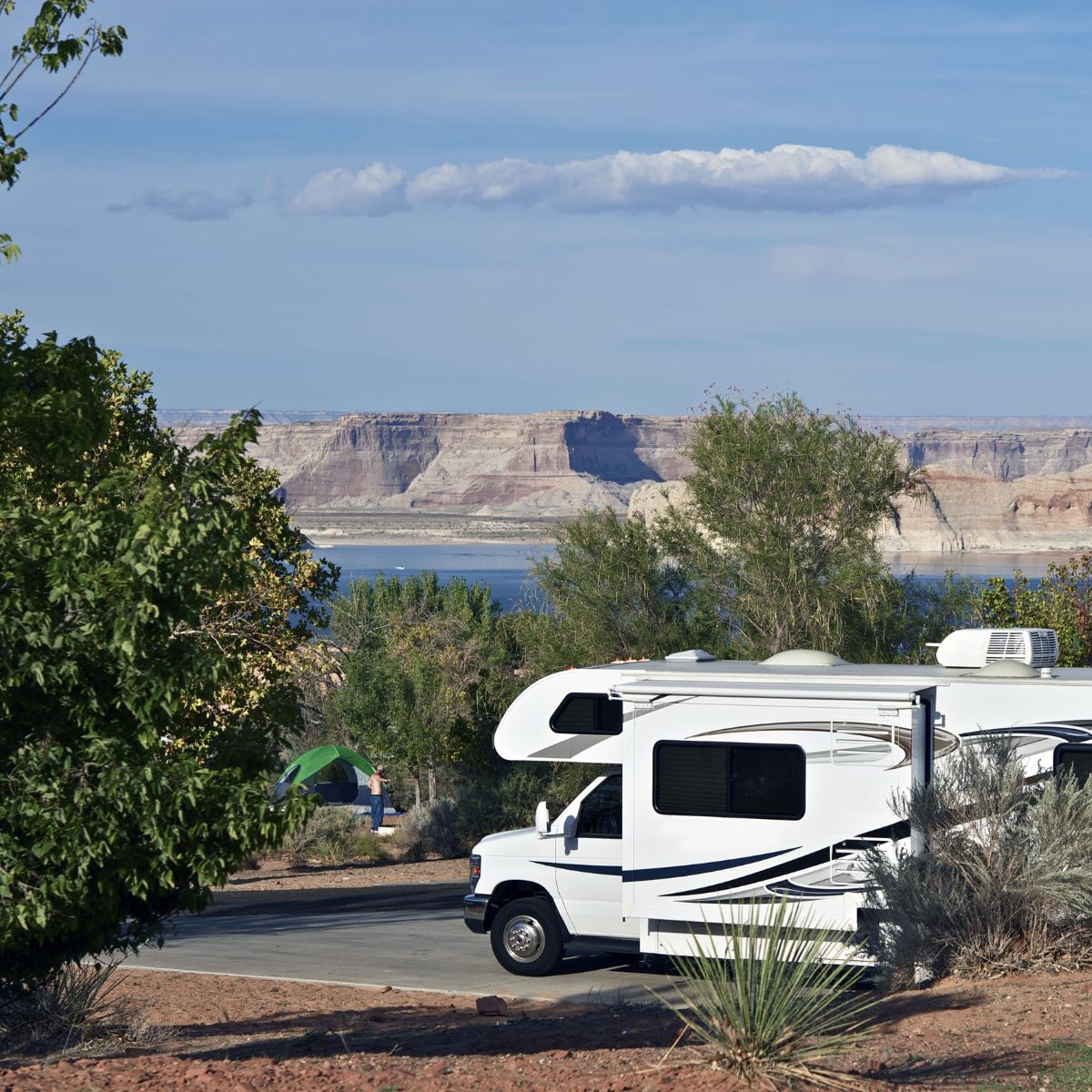 Table of Contents
Lakeside in Arizona, there's something for every taste. And in every Arizona climate or environment, covering these areas:
Southern Arizona – Finding campsites South of I-10
Central Arizona – See the best lake campsites in the White Mountains, Or campsites in The Deserts
Northern Arizona campsites: Eastern & Western Sides
We've always enjoyed the camping lifestyle. And we've pretty much done a range of most types of camping. From roughing it to upgrading in a Recreational Vehicle. And we've tended to get to the best lake camping in Arizona a lot. Since it's easiest to get away – we live in AZ, after all!
Right now we have a 17-foot travel trailer. And that's the one we're sticking to for good, we believe. It's all we need & easy to tow. Easier on gas too!
We've camped all around Arizona. As we mentioned, particularly many lakeside and riverside areas. We'll let you in on what we found.
We continue evaluating places we haven't yet seen. Be sure to return to see what else we've added!
Camping Off Arizona Interstate 10 – Southern Arizona Lake Camping
Interstate 10 in Arizona is a good marker to line out the Southern portions of the state. And from nearly anywhere in Arizona, it's easy to reach Interstate 10. Look south of this interstate for these sites.
Access Interstate 10 directly from Interstate 17, I-8, and I-19, or from Interstate 40 via I-17.
Here is an assortment of the best lake camping in Southern Arizona:
Patagonia Lake State Park
We've camped here numerous times. Most sites are quite nice. Some have ramadas. But the ramada sites are packed in a bit more, in a more open area. We prefer other sites, with more surrounding vegetation between sites.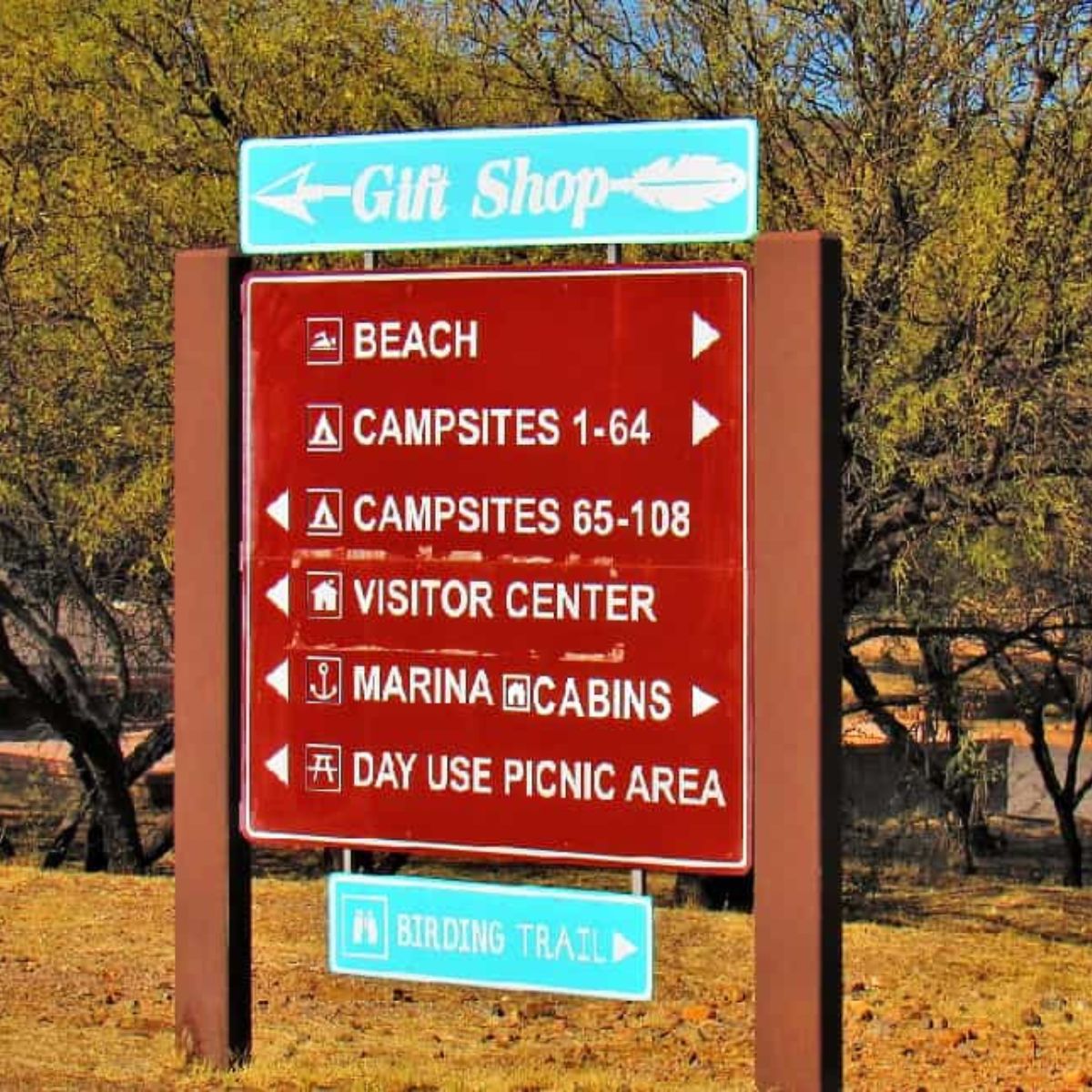 This State Park is scenic, with views of Mt. Wrightson in the Santa Rita's. It's West of the town of Patagonia. Patagonia Lake is man-made from damming Sonoita Creek.
Towns aren't close by. So the park has a good store, plus gift & bait shops with added convenience items.
Patagonia Lake is excellent for boating & fishing. Plus swimming with a sandy beach. An exceptional picnic area, too.
Most sites have electricity ( 20/30 & 50 amp) & water. A few have no hook-ups, for tenters. There are also 12 boat-in sites. Cabin rentals also.
Contact the park at 520-287-6965. To reserve a site call 877-MY-PARKS1
Martinez Lake for Military
Do you have military connections? This could be your choice, on the Colorado River. This lake with camping is just North of Yuma. It has RV sites, but you must have some sort of U.S. military connection.
So before you head there, check first their requirements. See if you have the right Military Qualifications.
Their RV sites have electricity & water. They also have cabins.
Have fun by fishing, boating, swimming, or getting one of their watercraft rentals, or bring your own.
Their general store is convenient. They're pet-friendly, too.
Take Hwy. 95 South from I-10.
For more info, or to reserve, call 928-783-3422 8 am-4 pm2
Willcox Playa
These campsites aren't right on a lake, but we're listing them for this unique area. Nearby the Willcox Playa, you'll find two private campgrounds. We stayed in one. They're both close to the historic/winery town of Willcox.
Even better: this distinctive lake feature: the Wilcox Playa. There's nothing like seeing – and hearing sounds of – flocking cranes wintering here.
To the Crane Observatory: Biz10 East, right on 186, right on S. Rex Allen Jr. Drive, right on E. Lake Circle Dr. It's on the right at the corner of E. Golf Course Dr.
The Playa is on the opposite side of Lake Circle Dr. You can drive around the entire playa, circumnavigating along Lake Circle Dr. Caution: much of the route circling the playa is unpaved. With some parts pretty sandy. 4-wheel drive is probably best.
Willcox Playa Campgrounds
Fort Willcox RV Park – Pull-thru roomy sites, full hook-ups, WiFi & cable available. Complimentary waffles & fresh coffee are offered on some mornings. Laundry & restroom. They allow tenting. You can book online.
Cattle Rest RV Park – We loved our stay here. Closer access to the playa. Take Exit 336 onto S. Haskell Ave. (Bus.10), up on the left. There's an in-house saloon, with a terrific dance floor. Bands play regularly, watch for dance lessons, too! Plus horse facilities. More info or reserve at: lpermenter@aol.com OR 520 384-921
Best Lake Camping in Central Arizona
Our Central Arizona area includes that North of Interstate 10 and South of Interstate 40. It's a vast area with many options & separate distinct geography. We'll divide it into two sections: White Mountains & Deserts.
Make Reservations for many of the areas below that are found in: Arizona National Forest Areas at Recreation Dot Gov We've used this system & found it easy, user friendly.
Best Lake Camping in Arizona White Mountains
Big Lake
A terrific place, Big Lake Recreation Area. 575-acre lake & 6 campgrounds, in Apache-Sitgreaves National Forest, about 9000 ft. elevation.
Paved roads lead to sites, most have no hookups, and water is available in season. There's a dump station & store.
We camped here as tenters about 30 years ago, with friends. Spent time catching crayfish & cooked them up for dinner. Fabulous time.
There's Fantastic Fishing, too. Expect cold temperatures overnight in this high country!
Outside of summer, best to call for accessibility updates: 928-333-6200
DIRECTIONS: From Show Low, Hwy 260E for 42 miles, turn on Hwy 273S for 30 miles. Big Lake Recreational Area on the west. Campgrounds are:
Cutthroat – Tents sites well spaced, at the lakeside. Picnic table, toilets & drinking water nearby. Open while accessible.
Apache Trout – RV sites here, only one with full hookups. Available for groups.
Grayling – Private, concealed sites. Tents & RVs up to 22 ft. Picnic table, nearby restroom & water.
Brookchar – Tents only, walk-in. Picnic table, water, fire ring. Nearby bathroom. Open when accessible.
Mormon Lake
Accessed easily south of Flagstaff, off I-17, S. Lake Mary Rd. to Hwy. 209. Nicely cool at 7000 ft. elevation. Watch for elk herds at dusk. We've seen them here, on grasslands approaching the lake.
Dairy Springs – Both single & group sites. Seasonal: mid-May to mid-Oct. Tents & RVs to 35 ft. No hookup sites have tables & grills. Vault toilets, drinking water. Hiking, fishing, campfire program amphitheater. Reserve it>
Double Springs – Open Spring to mid-Oct. First come, first served for 15 basic sites. Have picnic table & fire pit. Access to drinking water & vault toilets.
Best Lake Camping in Arizona Deserts
Roosevelt Lake
The Salt River via Roosevelt Dam enables this camping area on the largest lake within the state of Arizona. There are multiple ways to camp here: dispersed, group, horse, tenting at sites, & RV. Free dump station across from Cholla Campground on Hwy. 188.
To the lake from Globe: Hwy. 188 North for 27 miles.
Here are some of the best Tonto National Forest lake campsites: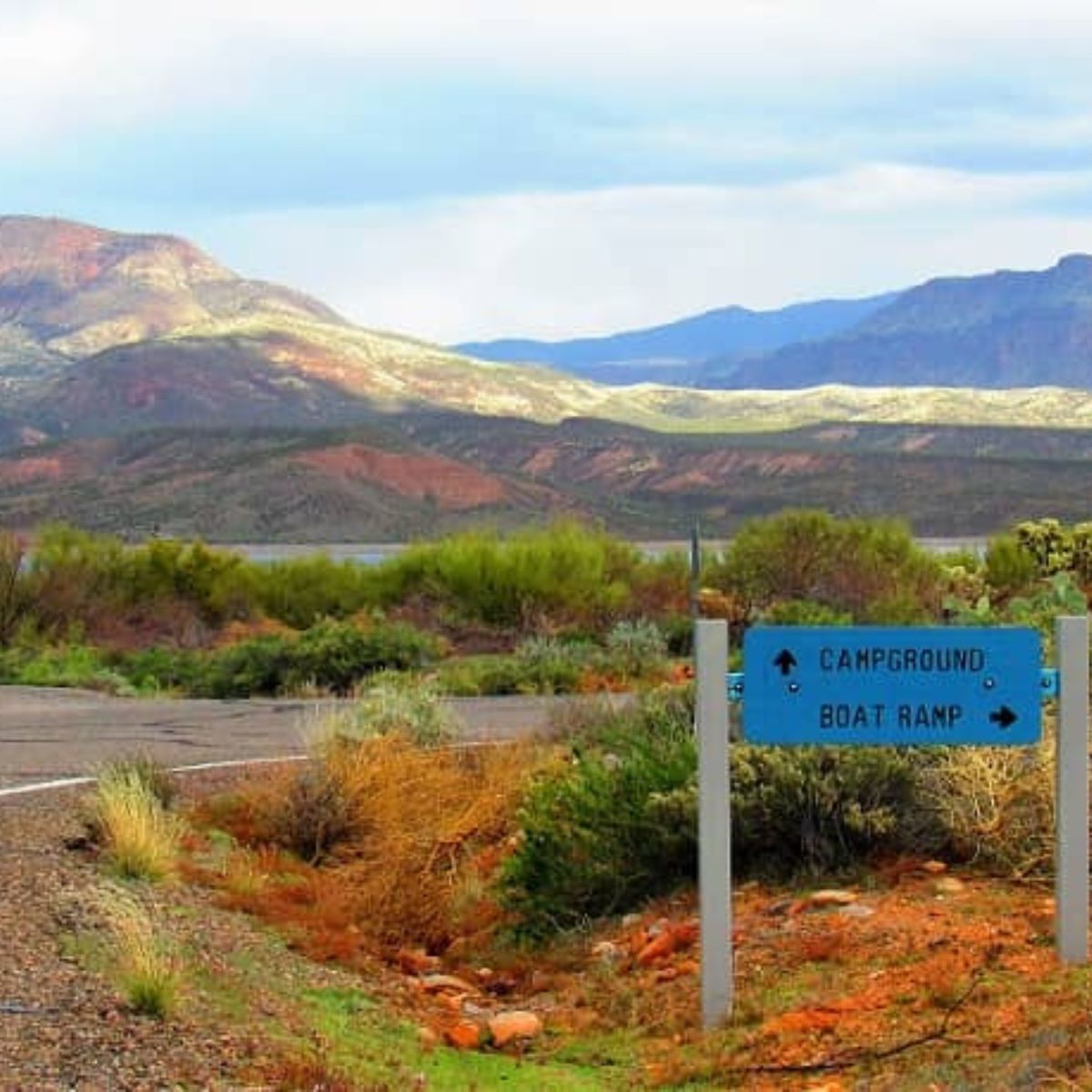 Cholla Campground
Beautiful views over the lake, 5 miles north of Roosevelt Dam. Playgrounds, paved boat launch, toilets, showers. Sites for tents or RVs up to 32 ft. Ramadas, grilling fire rings, picnic tables, & water. Easy access to a fabulous hiking trail.
Bachelor Cove & Cholla Bay
Bachelor is 4 miles west of Roosevelt Dam, and Cholla is 5 miles north.
No campsite designations along the shoreline there. But you're allowed to camp in a dispersed manner in these areas. No facilities, however.
Space can be limited by high water levels, which won't be problematic in drought situations. Be cautious of flash flooding & lack of roads.
But crowding, etc., can determine availability.
Frazier Horse CG
8 sites catering to horseback riders. Tent pad, trailers to 32 ft.
Each has a corral & horse drinker. Ramada, fire ring, picnic table, drinking water, vault toilet.
Plus for trail-riding: convenient, direct access to Arizona Trail.
Grapevine Group CG
9 separate group facilities here. Group areas have bathrooms/showers, water, and shelters with picnic tables, grills, and fire rings. Plus camping units with individual fire rings/grills & picnic tables
Windy Hill
Follow SR 188 37 miles to the entrance at Forest Road 82. RVs up to 32 ft. Shade ramadas, grilling fire rings, picnic tables, & water. Bathrooms with showers, playgrounds & amphitheater. Odd number site's reservations available Nov.-April.
Lyman Lake State Park
This is a high desert, so you'll have a bit different environment than the Sonoran Desert around Phoenix & Tucson. The Lake's created by damming the Little Colorado River, a tributary to the Big One!
We've been here, & it's got many desirable points. Nice for a summer swim & autumn picnics, plus in winter a true get-away. South of St. John's on Hwy. 180/191 & North of Springerville.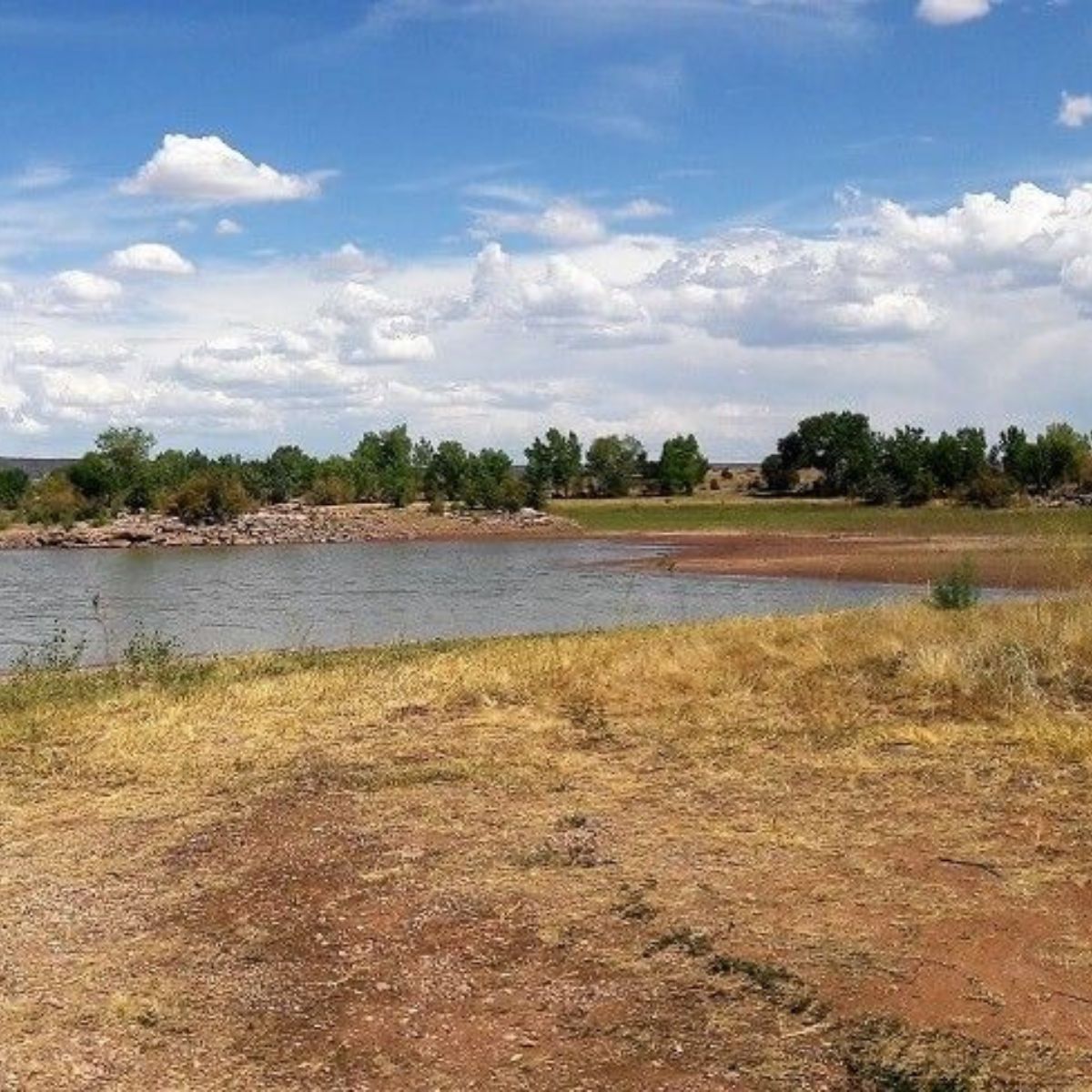 There's a lot to Explore Here on Your Camping Trip!
Things to do: swimming beach (at own risk), petroglyph hike, picnic areas, fishing, boating, spotting diverse wildlife & birds, sponsored events3
Sites: 13 full hook-ups, 18 electric/water, 18 no utilities. Or choose a beautiful Camping Cabin that sleeps 8. To reserve any call 1-877-MY PARKS (697-2757) 8 am-5 pm AZ time3
Best Lake Camping in Arizona's Far North
Many lakes having the best lake camping in Arizona, are created from the Colorado River. This region covers areas North of Interstate 40.
Katherine Landing – Camping at Lake Mojave
Two parks depending on the type of site you'd like. WiFi is available. Lake, swimming beach, restaurant & store nearby. On-site fishing gear, boat & personal watercraft rentals. 928-754-3245.
Roomy No Hook-up Sites – Only $20/night, half that with senior/military pass discount. Picnic table, grilling fire ring, first-come/first-serve. Access to restroom/showers & laundry.
Full Hook-up Sites – Back in, pad for up to 40 ft. RV, with picnic table. Restroom/showers & laundry are available. Seasonal rates and fabulous monthly discounts are available.
DIRECTIONS: From I-40, Exit 1, drive North on Oatman Hwy. Turn left in Topock onto Powell Lake Rd., and take 1st turnoff at Roundabout. Follow County Rt. 1, which curves around turning into Courtwright Rd. toward Needles. Turn right onto Hwy. 95 toward Bullhead City. Continue straight onto AZ-68E, and turn left at Davis Dam Rd. Turn right at Katherine Dr., going onto Katherine Spur.
Lake Powell Arizona Camping
Wahweap RV & Campground
Multi-use, adjacent to the lake. Within a resort complex run by a concessionaire. Pet-friendly, with WiFi. Sites have picnic tables, and grilling fire rings. Rates range from about $30 to $68/night depending on your site/time choice. 888-896-3829
Access to laundry, coin-op shower, restrooms, swimming at the beach, multiple dining options, shopping, and water activity rentals.
Activities: hiking, fishing, tours & more.
Choose The Site: full hook-up site, tenting pack-in site, car-camping tent site, tent/RV self-contained site
Beehives Campground
6 sites, 3-night limit.
NO conveniences except picnic tables: suitable for self-contained units, or just overnight. No campfires or glass containers.
First-come/first-serve, $14/night.
Driving from Page on Hwy. 89N, it's a left turn just before the right turn to the Wahweap Resort Area above.4
Resources
1 Arizona State Parks & Trails (2020). Patagonia Lake State Park Map. Copy of PALA_Park Map_2020_Fall_FINAL_01.pdf
2 Yuma USMC (n.d.) FAQ. Venture Lodging at Martinez Lake. Venture Lodging FAQs pdf Brochure.
3 Arizona State Parks (2021). Lyman Lake State Park.
4 Camping (n.d.) Glen Canyon National Recreation Area, AZ, UT. Beehives Campground