Who is behind the scenes on this website?
As of November 2022, I, Adriana inherited this website from Karen and Bill. No worries: their amazing content will stay put, and I'll just be adding to it going forward.
Welcome 🙂
We're Karen & Bill! We're here to help you get fantastic pointers for enjoying the Southwestern Lakes of the USA.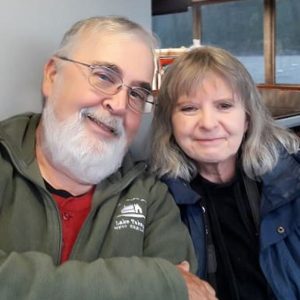 We love "playing" by the water – and we know the Southwest's water spots pretty well! Particularly Arizona's, as we live here. But we also travel a lot – finding lakes in other Southwestern states in America. Fabulous places to see!
We'll show you what people love to do at any of them. And why!! Yes, our purpose is at the top of each of our web pages…
Karen and Bill of Southwest Arizona Lakes are standing in front of red rocks in Sedona Arizona welcoming you to learn about them here on their About Us page
We'll help you enjoy them, have fun at, and delight in, any of those lakes of the Southwest USA!
Overview Of the Authors
We've always loved the camping lifestyle. Particularly going somewhere that's nearby a lake, a stream, a river, or the ocean.
We've been hiking & camping since our younger days. When our kids were growing up, more often than not, we took them to lakes, rivers & wetlands. Taking them camping, fishing, bird-watching & hiking.
Although we do get to the ocean on occasion, we find ourselves mostly at lakes. So why not share?
We love our state: Arizona. And the extraordinary beauty and many opportunities for recreation in the Southwestern part of the USA.
We've explored Arizona, and the Southwest – and we're not done yet! Especially since we're "job-retired," with our own time now. We're roving around in our travel trailer, often camping at a lake-side site!
To keep you informed, we regularly research the continued changes that go on regarding America's Southwest lakes and related waterways – quite a job!
We'd love Your Input! What else would you like to see on this website? What questions, comments or feedback do you have?
Our Mission, Vision & Core Values
We aim to provide valuable information about Southwest lakes, plus related waterways and wetlands, to interested people for its tourist, recreational, travel, touring, natural, conservation, and ecological value.
Our goal for this website is to give visitors helpful details related to lakes in the Southwestern United States. Plus from the nature of lakes, we touch on the rivers, streams, wetlands, etc. that relate to area lakes.
We believe people who are tourists, who like to travel to the Southwestern states, who like touring the area, will like the information we provide. And find it helpful.
We also cover natural information about lakes, how they're formed, the types of lakes there are, etc. Plus related subjects such as water conservation and the ecological challenges that lakes face.
Please see our full Mission Statement
If we discover errors (we welcome Input), we fix them asap.
NOW THAT'S ENOUGH ABOUT US! WHAT ABOUT YOU?
Do you have questions or comments? Tell us what we're missing. What more would you hope to be seeing on our site? What can we find out for you? We're open to input!
Want to say something – Please let us know…
IMPORTANT – If you want a reply from us, please ensure your email provider doesn't send our reply to your "Spam" or "Junk" folder. You may think we never responded! Oh no!! We always respond if you want that. Be sure your email provider is not blocking us from @ swlakesusa.com.
Send Us Feedback Or A Message…