The Ultimate Guide To Fishing Big Lake Arizona
Fishing Big Lake Arizona is fantastic for hooking trout! And then cooking them up over your campfire. Does that sound like a plan?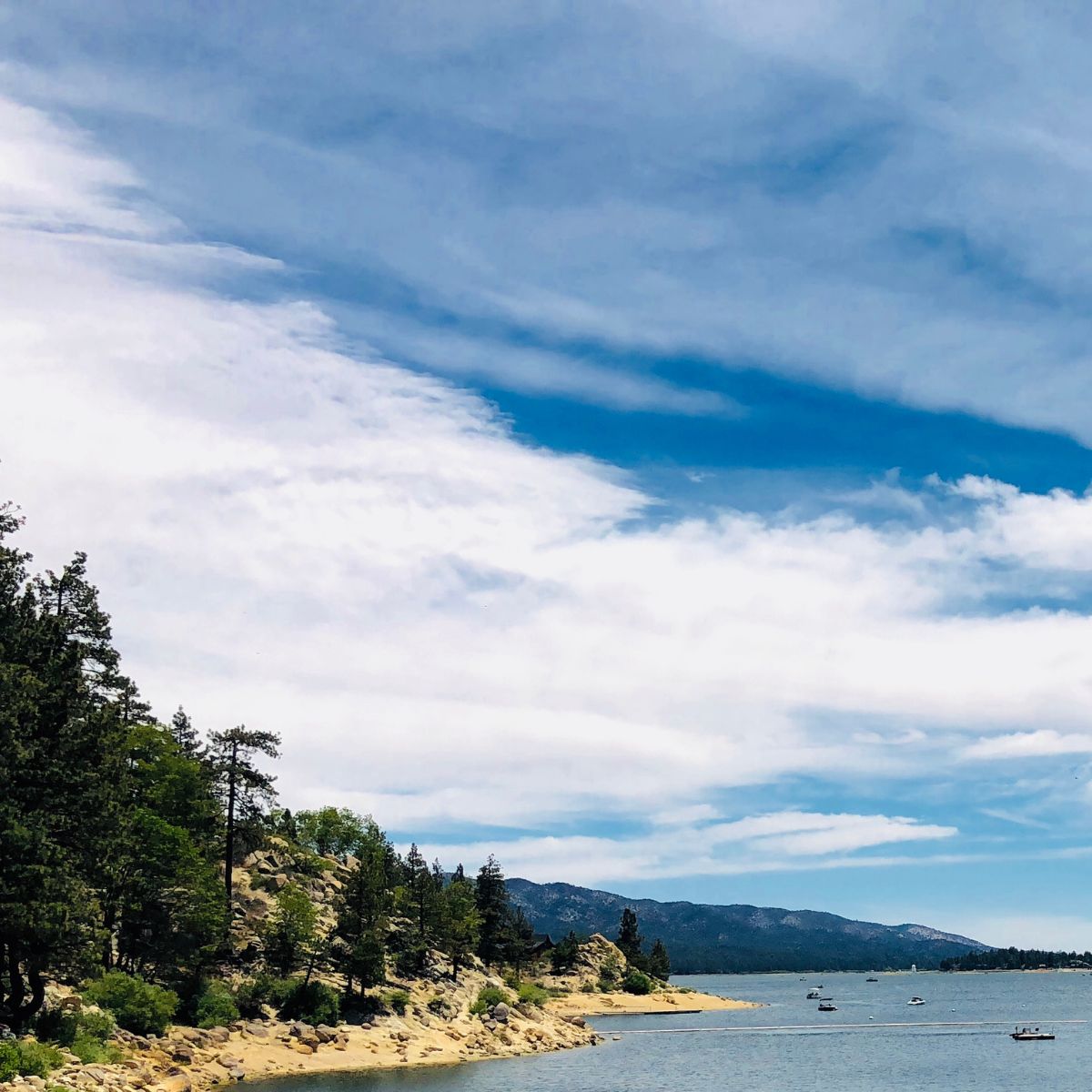 Table of Contents
We used to fish all the time. Not so much since retirement. But we still like checking in with how anglers are doing at lakes we visit.
We remember the fun our son had, about 7 years old, reeling in sunfish & even trout! And the fun we had, plus the delish meals.
Here are the details and best tips about fishing at Big Lake in the White Mountains of Arizona. A wonderful setting.
Big Lake Arizona
This popular lake in the White Mountains is within the Apache-Sitgreaves National Forest jurisdiction. Not far from Mt. Baldy, the White Mountains' highest peak (sacred to the Apaches). The lake's got nearly 9000′ of elevation.1
Be ready for cooler summer weather, in general, compared to desert areas. And typically snowy winters.1
The official season is generally mid-May to Labor Day or soon thereafter. Fees are specific to activities, thus you can enter off-season as well. However, major road access is closed in winter.
But how about the weather at Big Lake now?
---
Weather – Big Lake Arizona
Big Lake's shoreline goes for about 8 miles. The surface area is about 575 acres.2
One season we parked ourselves at the shoreline fishing for crayfish (they're invasive) & caught tons of them! Cooked them up over our evening campfire for dinner.
Didn't do that again: wasn't thrilled with effort vs. reward! But fishing for FISH is altogether a different ratio!
---
Getting to Big Lake AZ
From Pinetop-Lakeside, take 260E. Right turn onto Hwy.273. Then depending on your campground site, or boating intent, take one of these routes:
Pass Crescent Lake, right at 113A (may be unnamed): To the North side of the Lake. Parking, picnic area, Dam.
Hwy. 273/Three Forks Rd., right to 8115 (Big Lake Rd.): For multiple camping areas, Tackle/Supply Shop, Parking, Dock & Boat Ramp.
Continue 273, straight on along Three Forks Rd., right on FR249E…
2nd right to access Big Lake South Cove Boating Launch.
Or continue past Apache Railroad Trailhead to the next unnamed right. To parking with dock & boat ramp.
---
Big Lake Fishing
What types of fish will you catch at Big Lake? How can you get prepared to catch them? What are the best tips for catching these fish?
We have some insider Fishing Big Lake Arizona lowdown for you.
---
Big Lake AZ – Fishing Conditions
Big Lake is deeper than most in the area, averaging almost 16′ deep. Mostly resulting from the dam bulwark elevation in 1953.
That helped keep weed growth in check. Weedy areas with increased aquatic growth are Railroad Cove, Marina Cove & South Cove.4
The water quality is stable, mostly contributed via area & local mountain snowmelt. Winds contribute to water blending, helping maintain adequate dissolved oxygen levels. Alga blooms have been minimal.4
However, keep in mind Drought Conditions. This has been affecting water levels, which also affects boat ramps.
Now considered the best area trout fishing lake.4
---
Big Lake Fishing Access
More anglers fish from the shoreline than they do from various types of boats. There are three Boat Ramps, all accessible in high/normal water:4
Main Ramp adjacent to the Big Lake Store
The store is run as a private concession. Tackle, limited food & gas, fishing licenses, boat/kayak rentals (all boats 10hp or lower)
Fish cleaning station
The ramp is not functional in low water
Not formally Americans with Disabilities Act accessible
South Cove – Usually serviceable at all water levels.
Not officially ADA accessible
Railroad Cove
Not functional in low water
Not ADA accessible
---
Fishing Big Lake Arizona – Regulations
Arizona regulations must be followed when fishing at Big Lake.5
Have your valid Arizona fishing or combo license. Whether a resident or not, if you're at least 10 years old. Blind Arizona residents are exempt from this requirement.
Two poles max, per angler. Must always be attended.
Live baitfish NOT allowed for fishing in Big Lake. Other types of bait are allowed such as worms & salmon eggs. And artificial lures & flies.
Treble hooks are okay when fishing Big Lake Arizona. (Not OK in all AZ lakes, though.)
There is a bag (fish not released) limit daily: 6 total trout, with 12 total fish per 24-hour day (begins at midnight).
It's really important to be prepared. Know The Regulations when fishing Big Lake Arizona.
---
Trout Stocking at Big Lake AZ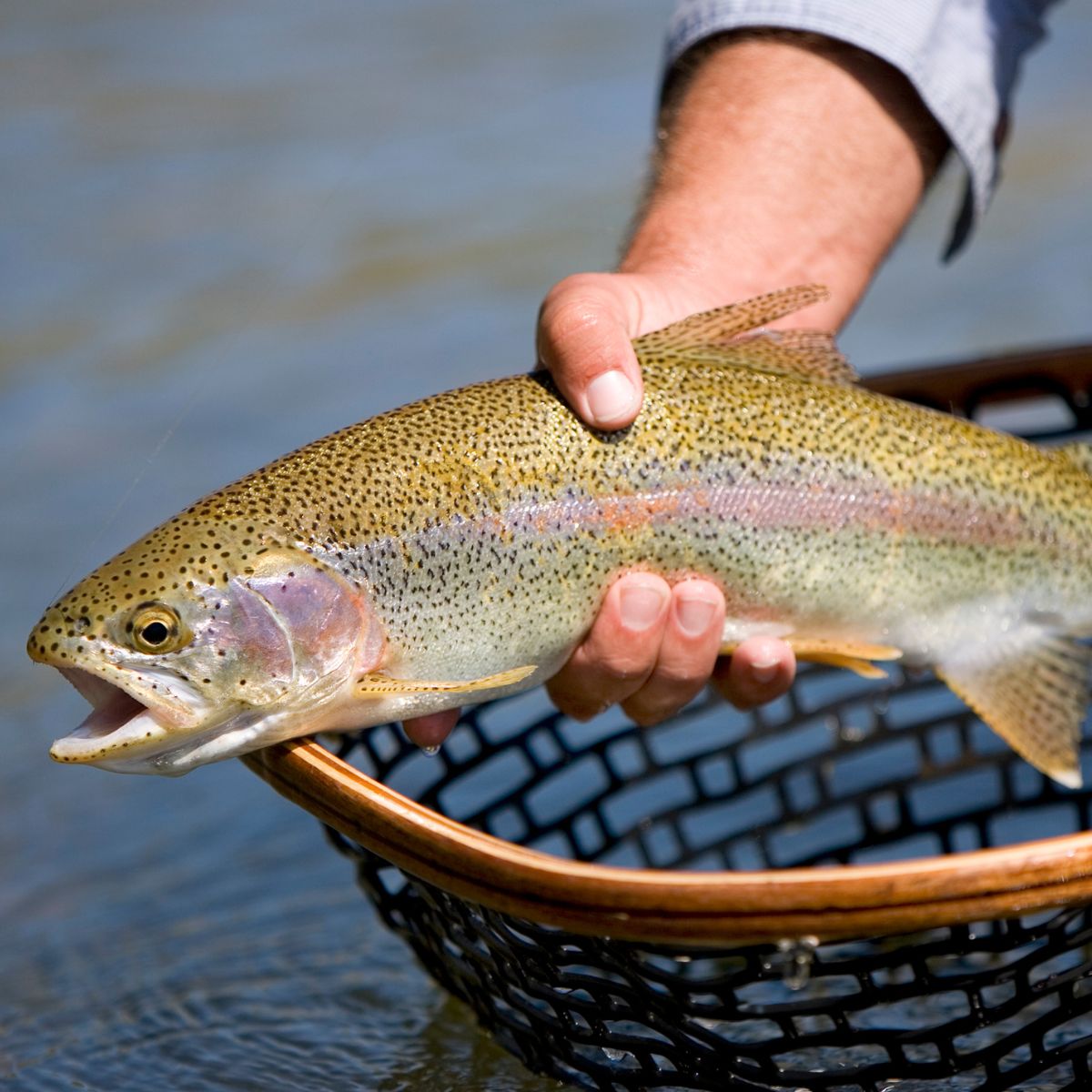 You'll love fishing for trout at Big Lake. Arizona Fish & Game stocks the lake regularly. Rainbow and brook trout are my favorite catches.1 
Very young 3-4 weeker (150,000 fingerlings) Rainbow Trout are stocked each spring. In fall 40,000 older, but just under the limit, Rainbows are stocked.4
Around springtime, yearly stocking for Cutthroat (60,000 fingerlings) & Brook trout (50,000 fingerlings).
But they adjust these numbers if need be, to get/keep their plan on track.4
What plan?4
Arizona Game and Fish Department has a Big Lake Management Plan for the years 2020 through 2030. They're emphasizing cold water sport fishery usage.
To promote that goal, they're stocking Rainbow, Cutthroat, and Brook trout. In the past, they'd stocked Brown & Apache trout, also Artic Grayling, but no longer.
They want to ensure fishing success in Big Lake Arizona.
They'll survey, aiming for an angler catch rate of 1 Rainbow Trout per hour between May & September. They created a similar, but lower goal for Cutthroats & Brookies.
What it comes down to is keeping those coming to do fishing in Big Lake happy!
They want at least 80% satisfaction from Arizona anglers. Thus their aim is to assess what still needs to be done, and develop plans for improvement.
That even includes educating people newer at fishing to be successful.
---
Trout Fishing Experience at Big Lake
Many anglers have fantastic results fishing for trout at Big Lake. They have tips.4
Early Season – More shallow spots at the shoreline are the best bet. Trout like those areas scouting out minnows & crayfish that survived the winter.
Later in the Season – When it's warming up, go out farther for deeper water. They're also typically attracted to red-coloring in lures & flies.
What type of trout fishing at Big Lake Arizona?
Rainbow – Usually hard fighters. Since regularly well-stocked, they tend to get big in this "big lake."3 Most caught are at least 10 inches.4,7
Cutthroat – Gives a really good fight.3 About 25% of analyzed samples are from 11-20 inches.4
Brook – Can be intermittent in fighting your reel-in.
Brown – Randomly possible in early Spring. If you hook one, it'll fight big-time.3 Secretive, not easily snagged. Tips: fish nights or cloudy/rainy days, likes shallow spots, tolerates warmer/cloudier water.7 Since not stocked, they're a rarity.
---
Hints for Catching Big Lake Trout
Usual Pole Set-up – 4 to 6 lb. test line with 8 to 12 size hook.5
Remember it's just best to go with the lightest line possible for the best results. As one author said: "less is best in Arizona" for test weight.7
Techniques:
Bait Casting – What's often best is a bottom set-up with a 1/2 ounce egg-sinker.
Add a swivel & give your hook 12-18 inches of the leader line. Add floating bait to the hook.5 
One angler has success with adding vividly colored marshmallows.7 How about red?
Bobber With Your Spin Cast – This works best with non-floating baits like worms or salmon eggs.
Add about 4 feet of the line below a pencil bobber, attaching your hook. Thread a split shot sinker nearly 3 feet below the bobber.5 
If using salmon eggs, best with a short-shank, rounded-gap brass hook. Ensure the egg covers most of the hook.6 Salmon eggs are notable for falling off, this helps with stability.
Fly Fishing – In Big Lake Arizona, some fly lures & plugs work well.
Peacock Ladies, Warden's Worries & Crystal Flash have all gotten good results.3
In the summertime, with warmer temps, slower retrieves seem to work better.7 
Remember anything with a red feather will likely work.3
---
Winter Fishing Big Lake Arizona
Consistently freezing temperatures at Big Lake generally begin in late autumn.
Big Lake begins icing up in December. The ice-over lasts through March, sometimes into April. Snowstorms can occur during this time, leading to road closures.4
Large snowpacks with formidable snowdrifts impede traveler access to Highways 273 and 261. They typically reopen when finally plowed.
Therefore dependable opportunity to enter Big Lake is iffy at that time of year. In fact, until Big Lake ice melts, road crews are unlikely to plow these highways.4
However, ice fishing at Big Lake Arizona is fine if you can get there!
---
Ice Fishing Big Lake Arizona
Ice fishing is doable at Big Lake if you can get there.
How can you get there? Snowmobiles! Do you have one? Or if not, and are ambitious enough for this – you can rent one.
BIG LAKE ICE FISHING RULES:4
Not really different regulations, still follow state laws, such as having a license, etc.
No rules on number or size of holes you drill for casting your ice fishing lines
Remember: only 2 poles allowed
ICE FISHING SAFETY & NEEDS:
Plan ahead, become familiar with fishing Big Lake Arizona in warmer weather first, to know the area
Be prepared with proper clothing, it gets frigidly cold there!
Follow the more experienced to safe ice areas – but don't crowd them.
Don't travel over slushy, soft, or thin ice. And ask questions of ice anglers, they're usually a friendly sort.
Essential Equipment: 
Shakespeare Ugly Stik has rod/reel combos that are popular. Not sure you'll stick with it? Try their inexpensive Wild Series.
Ice auger to cut the hole. Consider the fish size you'll be after to get the right size. Hand augers are economical. Add an ice scoop for clearing ice shavings.
Combo seat/bucket for sitting while fishing. Plus storing fish catch or other items
Tools such as needle-nose pliers
Small plastic sled for bringing your equipment out
Fish in these cold waters will be sluggish, calling for even lighter test-line
Use soft shot weights & 8-14 size hooks.
Nearby to Big Lake, is Reservation Lake, where this was filmed. Same kind of experience, using minimal equipment!
What is really needed, especially once experienced?
References
1 Reinhardt, J., Reinhardt, G., & Hudnall, St. (1993). Recreational lakes of Arizona. Sacramento: Griffin Printing/Phoenix: Sunflower Sales.
2 USDA Forest Service (n.d.). Big Lake Recreation Area. Apache-Sitgreaves National Forests. Retrieved from fs.usda.gov/recarea/asnf/recreation/camping-cabins/recarea/?recid=80836&actid=29
3 Meck, C.R. & Rohmer, J. (1998). Arizona trout streams and their hatches. Woodstock Vermont: Backcountry Publications.
4 Lopez, M., Corbett, V. & Follmuth, R. (2020, March 1). Big Lake Fisheries Management Plan 2020-2030. Sport Fish & Wildlife Restoration. Arizona Game & Fish.
5 AZGFD (n.d.) 2021 Community fishing guidebook: azgfd.com/fishing/regulations/
6 Kaminsky, P. (1997). Fishing for dummies. New York: Hungry Minds Inc.
7 Sagi, G.J. (1992). Fishing Arizona: THE guide to Arizona's best fishing! Phoenix: Golden West Publishers.