Best Swimming Lakes In Arizona
Arizona has plenty of swimming lakes all around the state. When we first moved to Arizona, one of the first things we did was try to find out where we could swim. So we looked around and these are some of the best swimming lakes in Arizona we found.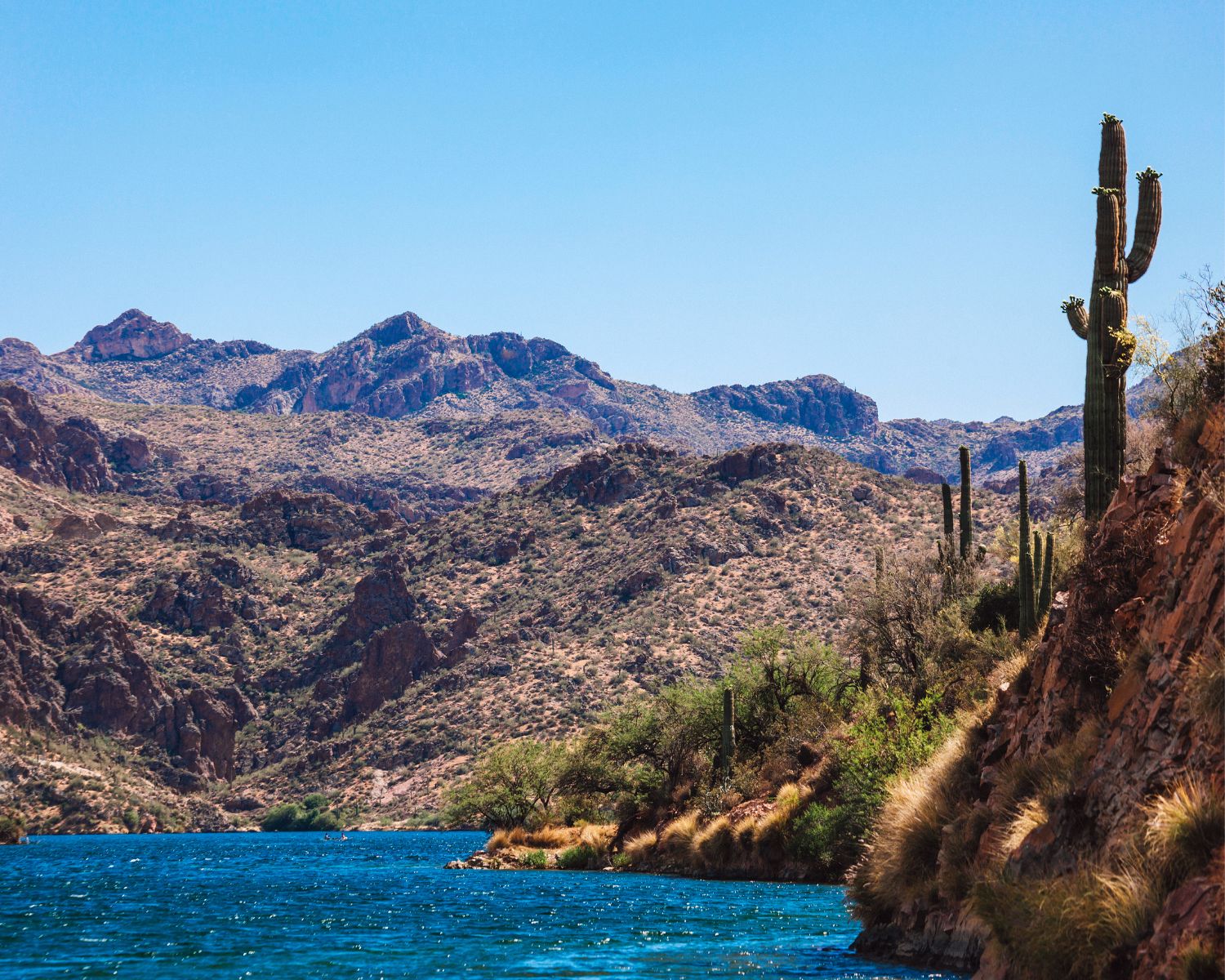 We'll show you what we found, and how that will be useful.
Remember that public Arizona swimming lakes do not staff lifeguards. Swimming is always at your own risk. So, use common sense, and swim responsibly.
Also once the chillier weather comes in, you may want to try some hot springs in Arizona. We've got some!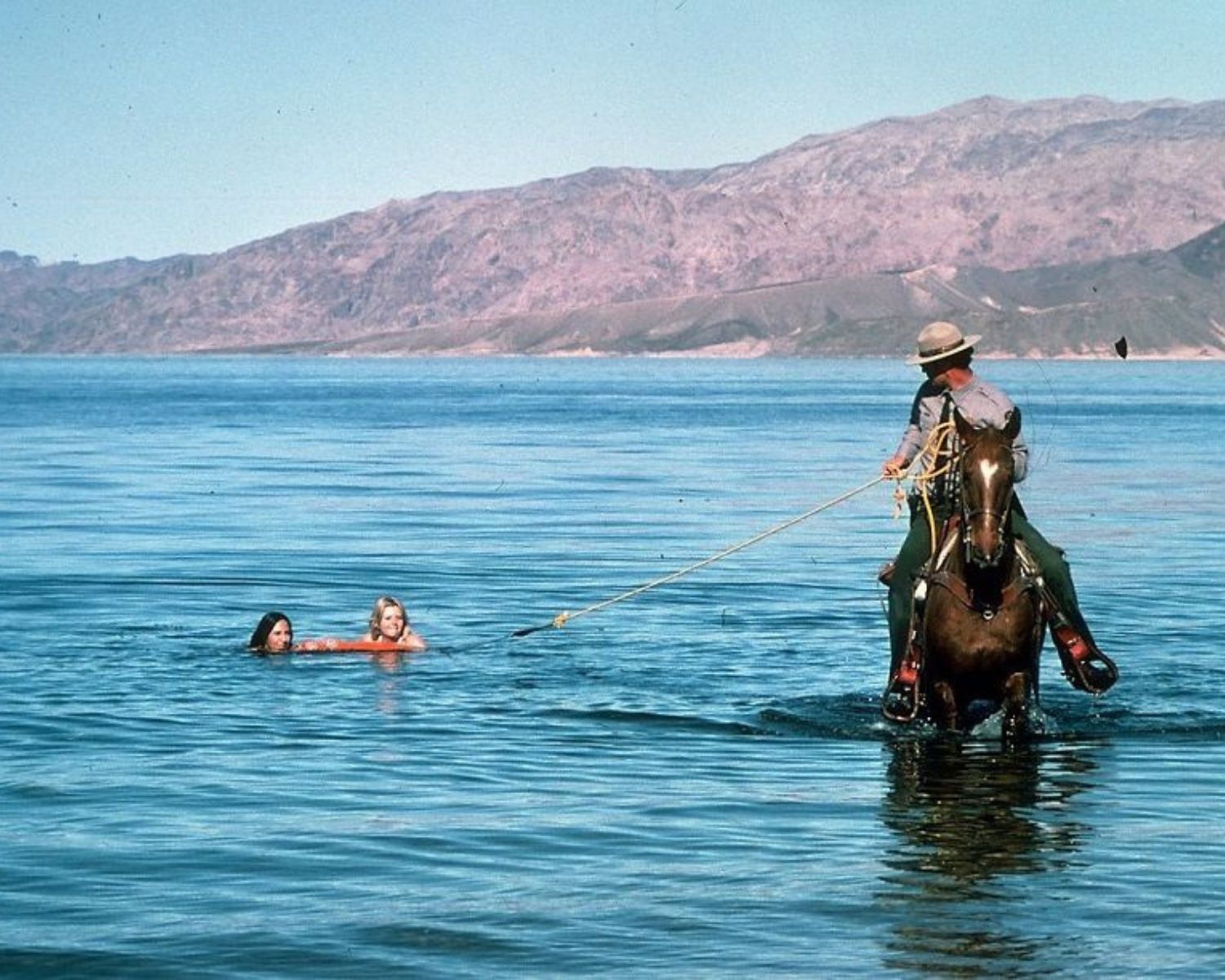 Table of Contents
---
Best Swimming Lakes In Arizona – National Forests
Canyon Lake
This swimming lake east of Phoenix Arizona was the first we discovered. The area wasn't as well developed then, as it is today. But we'd decided it could be our "ocean" of Arizona!
The swimming area, with adjacent picnic tables & ramadas, is called Acacia. Off Apache Trail, after crossing the 1st bridge, turn left.
There's no drinking water.
Vault toilets.
Tonto National Forest Pass or America the Beautiful Pass Required.
Lake Mary
The Upper Lake Mary is the larger lake of the two Mary Lakes and has swimming capability.
What do Coconino National Forest rangers say about swimming at Lake Mary?
They don't "prohibit swimming in any of our bodies of water…" But they explain there aren't sandy beach areas, so it's not ideal.
People often swim here via water skiing or windsurfing.1
Apache Lake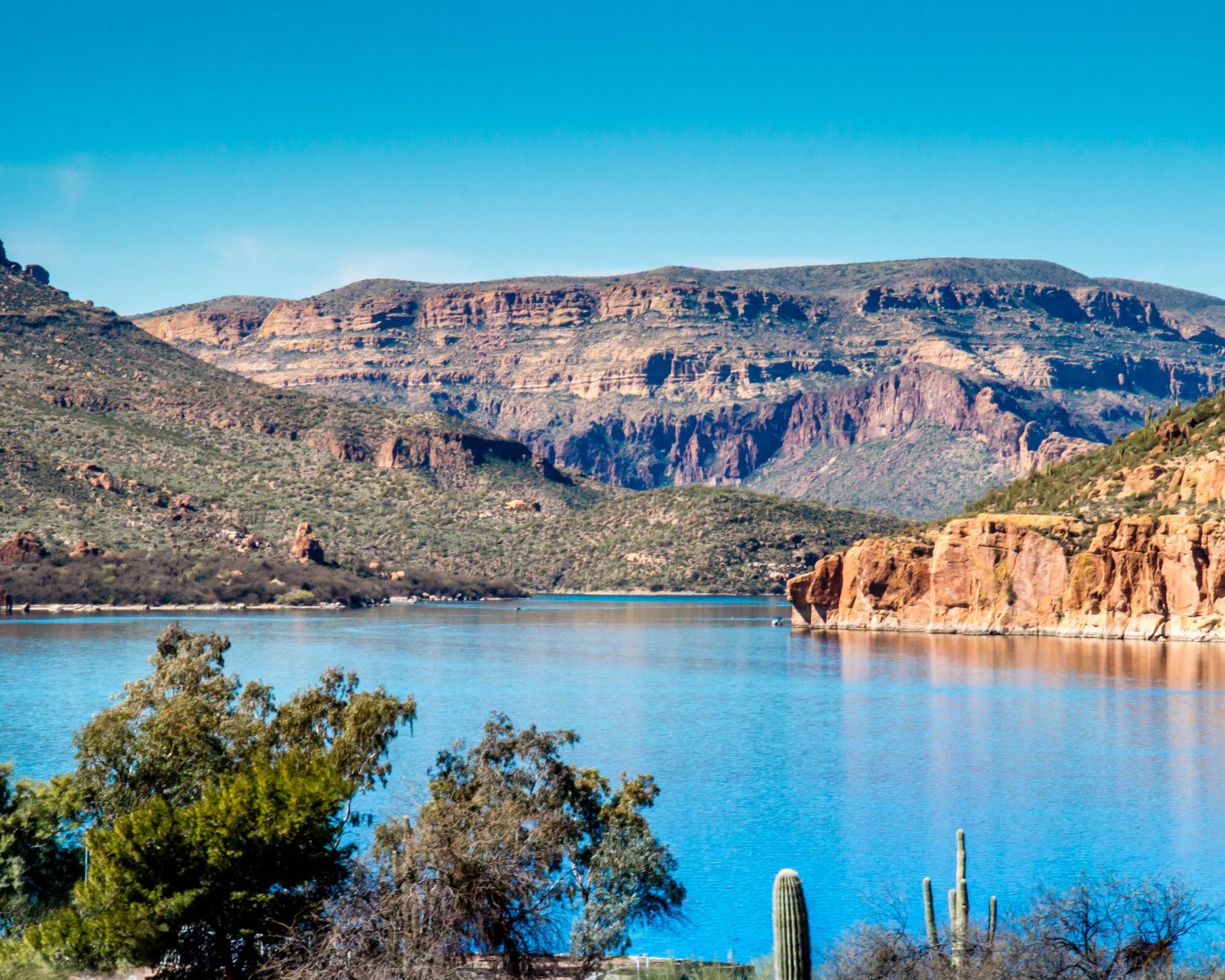 Although not officially sanctioned by Tonto National Forest, a privately run marina resort on the lake has sandy beach areas.
Lots of boating craft of all kinds compete with space at times, so be wary of that.
Apache Lake can only be accessed from the North end, via Hwy.88S off from 188.
Prescott National Forest Arizona Swimming Lakes 2
These 4 area lakes have the go-ahead for swimming. But with requests made by rangers:
These lakes are "managed for multiple uses, including boating and fishing.
"Practice good etiquette; give boaters and those fishing adequate space.
"For your safety, make them aware of your presence and ask where they are heading or casting.
"Be aware and alert of hazards, and avoid swimming where active fishing and boating is occurring."
These lakes are:
Lynx Lake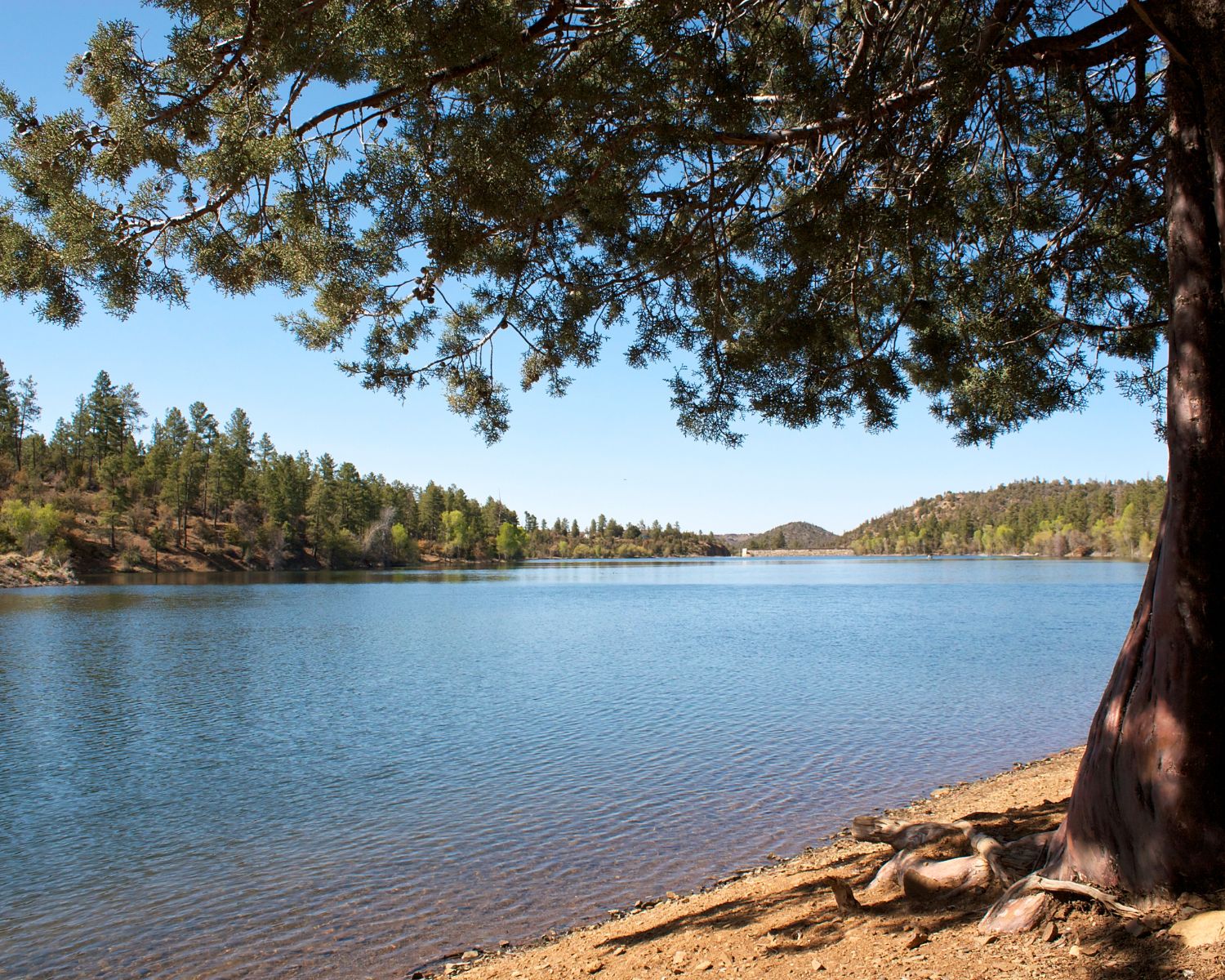 Lynx Lake is the largest forest lake, 55 acres. It stays pretty busy, especially during summertime, weekends, and holidays.
With 12 tables, the North Shore picnic site has the best swimming access.
Or around by the South Shore boat ramp or at the Marina boating area – but remember the ranger statement above.
This Recreation Area has two campgrounds.
Granite Basin Lake
A small 5-acre lake, with picnic tables. Helpful for swimmers, as only non-motorized boats are allowed.
Vault toilet, but no drinking water.
$5 entry fee, but is FREE on Wednesdays.
From Williamson Valley Rd., Prescott, go NW on Iron Springs Rd. for 3 miles. Turn right on Granite Basin Rd. to arrive.
Horsethief Basin Lakes
Bradshaw Ranger District's 3-1/2 acre lake near Crown King & Bumble Bee. Truly get-away-from-it-all! High-clearance vehicles are recommended.
Day use; non-motorized boats only. No drinking water or toilet. See Current Visiting Advisory.
Mingus Lake
Verde Ranger District's small lake with no boating.
Nice views, one picnic table/ramada. $5 entry, free Wednesday
Vault toilet
No drinking water
From Prescott Valley, toward Jerome on Hwy. 89A, take Forest Road 104 at Summit Picnic Site
About 2 miles, look for the lake on the right.
Roosevelt Lake4
Within Arizona's borders, the State's Largest. Tonto Basin Ranger District.
Take Hwy. 188N from Globe for 27 miles. Open all year, but observe fall to winter "Closed to Entry" posted areas, for wildlife protection (Eagles nesting).
The forest service doesn't publish authorized swimming areas. Many camping areas around the lakeshore are fine for swimming.
The forest service advises "No Wake" areas at coves by developed sites. They're ideal Roosevelt Arizona swimming lake spots.
Still advisable to read posted rules, and go by them. Or call the Ranger Station: 602-225-5395 for specifics.
Bartlett Lake
There's no official Tonto National Forest swimming beach here.
But an Outdoor Project contributor5 says sandy beaches are along one length. Any suitable area can be found for this Arizona swimming lake, at your own risk.
Not easy access though, which is why you may encounter those au natural!
From Carefree AZ, take Bartlett Dam Road of 14 miles of winding bumpiness.
---
Arizona Swimming Lakes – National Park Service
Lake Mohave
Several locations along this Arizona swimming lake, are formed by the Colorado River below Hoover Dam. There are several areas suitable for swimming, and pretty nice swimming beaches.
Most areas have little shade. So Come Prepared.

Sandy beach is in the Day Use area (caution: no dogs allowed on the beach).
Lake Mojave Swimming
Willow Beach
A small sandy opening onshore, into the water where you may have rocky spots to navigate. Better to bring your Water Shoes!
Motorized boats aren't allowed in the beach area – just paddle craft. Enjoy the views here of the scenic Black Canyon.
Travel 12 miles South of Hoover Dam on Hwy. 93, to Entrance on right, go 4 miles in. A campground is up the road, and picnic tables are nearby.
Princess Cove
A nice sandy beach & swim area. Picnic tables, too.
Directions: I-40 Exit 48 to Hwy. 93 North. Exit onto Hwy. 68 toward Laughlin/Bullhead City. Make a right onto Davis Dam Rd., right onto Katherine Dr./Spur, and right at Cabin Site Rd. bearing right at 1st fork.
Make a right at Princess Cove Rd., bear left at the next 2 forks, around the bend & left again at the fork. Follow Princess Cove Rd. to its end at the Picnic area & beach. Totals are about 8 miles from Davis Dam Rd., though it sounds longer!
Cabinsite Cove
Mostly sandy beach, but rocky swim area. Definitely have water shoes to go in.
There are no tables.
Directions: Follow Princess Cove directions above, to Cabin Site Rd. at Princess Cove Rd. There instead make a left. Follow Princess Cove to its end. At forks, bear right then left twice. At the last fork, either way is fine.
North Arizona Telephone Cove
Mostly sandy beach & swim area. No tables.
Directions: Follow Princess Cove's directions above, to Cabin Site Rd., and bear right at the fork. Make a left onto Telephone Cove, bearing right onto Telephone Cove North. Follow to the end.
South Arizona Telephone Cove
Sandy beach & swimming. Picnic tables.
Directions: Follow the North Tele-Cove directions but bear left onto Telephone Cove South Road, all the way out. It's about 1/2 mile south of the North site.
Katherine Beach
Sandy beach, no tables. But there are amenity rentals in the nearby marina area.
Directions: Follow Princess Cove's directions to Davis Dam Road. Make a right on Katherine Access Road. Follow to the marina. Park near the picnic area.
---
Arizona Swimming Lakes in State Parks
Many Arizona State Parks have lakes for swimming. We've been to quite a few! In fact, after finding Canyon Lake, we realized the lake state park closest to our home had a nice swimming area. That's where we've now gone the most.
Always remember that AZ state parks don't provide lifeguards: Swim At Your Own Risk.
A nice sandy beach is well-maintained. But it's not very soft sand. You might want Beach Chairs with you. Plus it's helpful to wear some quality water shoes because lake bottoms can have rocky areas.3
Patagonia Lake
The closest Arizona swimming lake to our house. When we found it, we said YES!
Lots of shaded picnic tables/ramadas. Scenic lake with a huge arcing walking bridge.
Fishing & boating (with restrictions) are allowed. Plus great campsites (some boat-in) & rental cabins. They have guided tours, boat tours, trails, & 3 stores.
Directions: 11 miles West of the town of Patagonia, off Hwy. 82.
Lake Havasu SP
Swim all along the shore. But they suggest specific spots: several beautiful white sand beaches created just for that. For instance, Windsor Beach.
The Colorado River created this Arizona swimming lake when Davis Dam enveloped its waters. It's got wonderful water activities, including fishing.
Plus campsites, Cabin Rentals, trails, ranger programs, picnic areas with ramadas, and visitor center/store. Even lighthouses!
Directions: From Hwy. 95, in Lake Havasu City, take Industrial Blvd. West, crossing over London Bridge Rd. to enter the park.
Havasu Riviera
A park in the making. You can virtually travel there.
Just check their Live-Stream Camera as they create this new Arizona swimming lake area.
Roper Lake
Another of our favorites. Nice swimming area on a Day Use peninsula. Depending on the water level, it may be a sandy beach or a stairway into the lake.
Picnic tables, shade trees & ramadas. Grassy area.
This State Park has campsites, cabins, trails, fishing, and boating (electric & non-motorized only).
Lyman Lake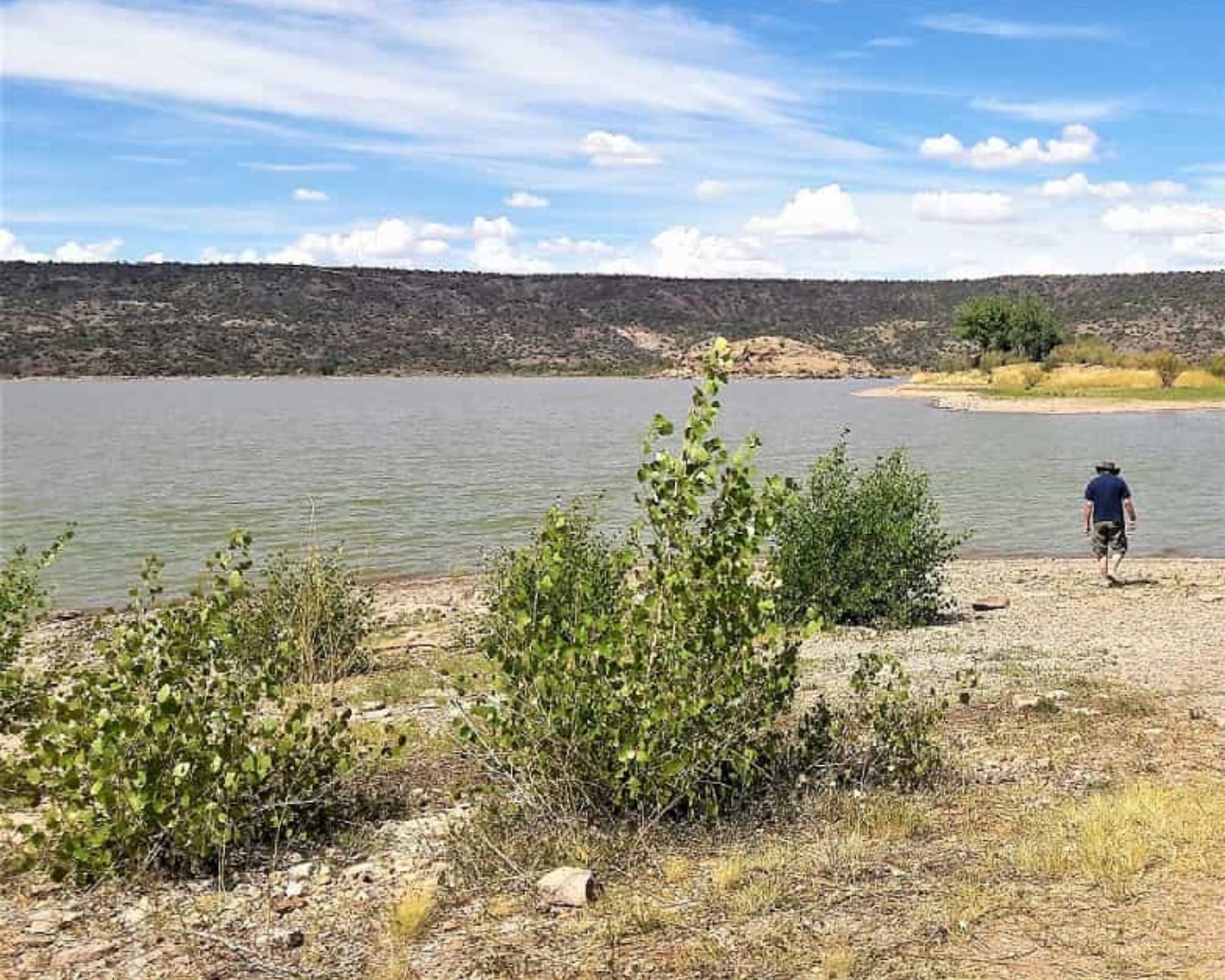 They have a specific area here for swimming at Lyman Lake State Park. Between the park store & petroglyph trail.
It's nice that watercraft (boat motors have no restrictions) aren't allowed near the swimming beach, so no worries there. On the other hand, you're not allowed to swim from any other lakeshore areas. Very rocky elsewhere, so it doesn't look appealing anyway!
It's a huge 1500-acre lake with room for all. Campsites, cabins, trails, ranger & local programs here. Way out of the way in Northern Arizona.
Directions: Drive south out of St. Johns AZ, to the eastern entrance from State Hwy.191. Or north out of Springerville.
Cattail Cove
The day-use area has a nice white sand beach designated for swimming in Lake Havasu. Other shoreline areas are also fine for swimming.
Campsites for RVs and boat-ins are available. Store & hiking trails are other facilities.
Park entrance: Turn West off Hwy. 95, 15 miles South of Lake Havasu City. 928-855-1223
Fool Hollow Lake
No specific swimming area, it's kind of rocky, Water Shoes/Sandals are essential here. Also when swimming, stay away from boat ramps, docks & the dam.
Only non-motorized & 10hp max boats are allowed, so swimmers won't worry about big boats.
The park has campsites, trails, a picnic area with ramadas, a store/visitor center, an amphitheater with ranger programs & summer watercraft rentals.
Located in Apache-Sitgreaves National Forest in Show Low AZ. It's a 6300 ft. elevation pine forest cool environment.
Alamo Lake
At this Sonoran Desert park, you're allowed in the water, but take precautions: no swimming near boat ramps, docks, or the dam.
Find campsites & camping cabins & a park store here. Boating & fishing are activities too.
To get there, take US 60 to Wenden, AZ. Watch for the Point-of-Interest sign. Take the 2-lane Open-Range road across railroad tracks for 33 miles, to the park entrance.
---
Other Arizona Swimming Lakes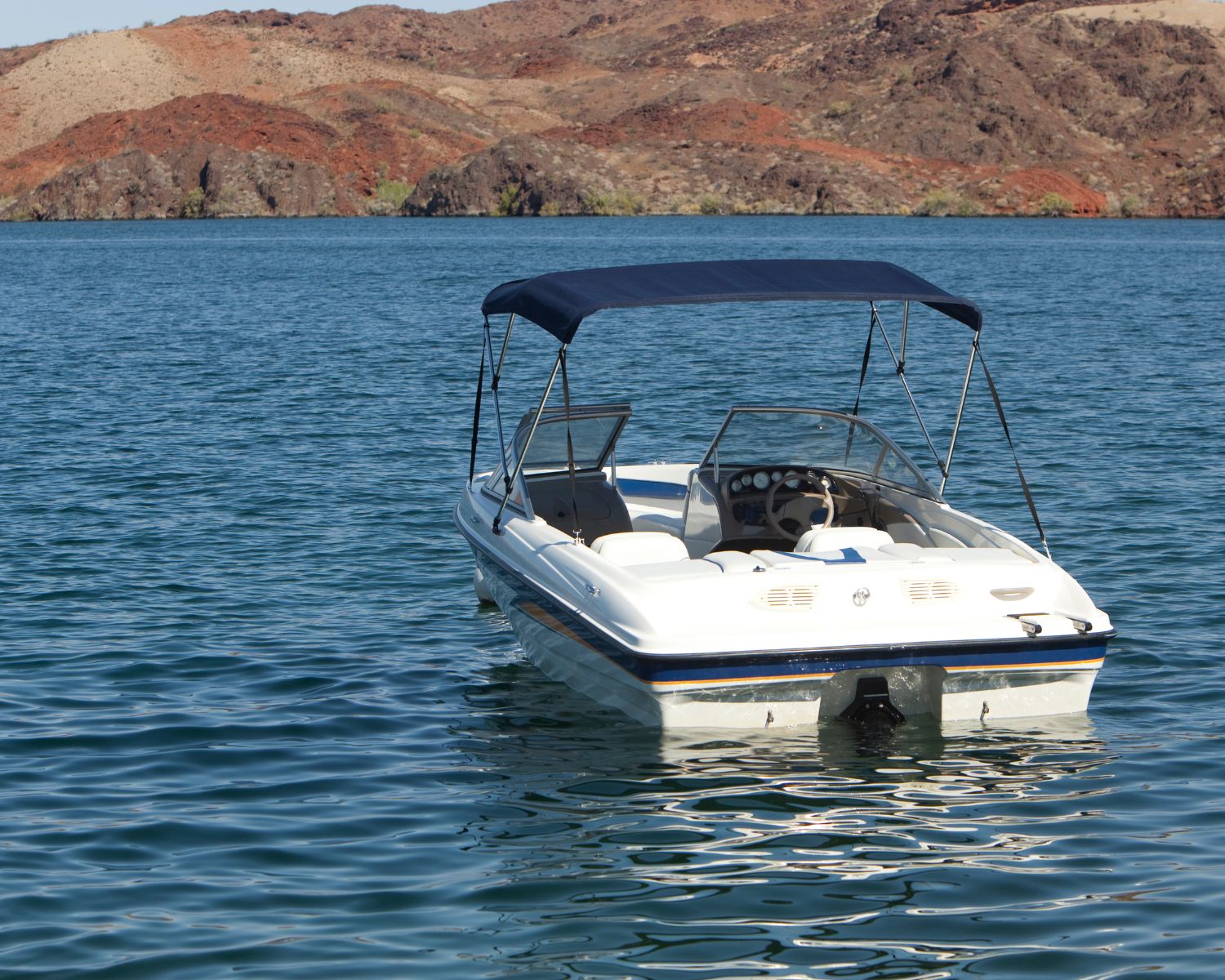 Lake Pleasant
This lake is located in the Maricopa Regional Park with the same name.
Address: 41835 N. Castle Hot Springs Rd., Morristown, AZ. Very popular, just North of Phoenix.
Areas to swim are around picnic areas, campsites, Fireman's Cove, Coles Bay, and Humbug Cove. If you're boating, that's another way to get into the water for a swim.
As it's a reservoir, supplying desert city needs, lake water levels vary. That affects water temperature, depths, and swim-site accessibility.
The park offers hiking trails, campsites, picnic areas, a marina, and a water-cabin, houseboat-like rental. 602-506-2930X1.
Peña Blanca Lake
Northwest of Nogales, this more recently can be considered an Arizona swimming lake according to a This is Tucson writer6.
Once contaminated with mercury from local mining, dredging & a lake re-do relieved the problem.
No specific swimming areas, but carefully choose a place to go for it. As it is allowed.
No water, has a picnic area, $8 Day Use Pass.
Off I-19 take the Ruby Rd. exit. About 8 miles watch for a right turn to the lake.
Saguaro Lake
Stewart Mountain Dam formed this wonderful lake just outside Phoenix proper. Three main swimming beaches.
1st Choice: Butcher Jones, with a nice sandy beach & good parking area. Take the left turn onto Butcher Jones Beach Rd.
2nd Choice: Saguaro del Norte has a few spots with sandy areas, otherwise pretty rocky. Lots of parking along the entrance road. Left turn onto 206 or E. Forest Rd. 206A.
3rd Choice: Sadie's Beach requires a little hike. Plus it's not very beachy! Water can be muddy here, too. It's toward the East if you like to get to a lonely spot.
Motorized watercraft aren't allowed in the bay in front of Butcher Jones and Saguaro del Norte Bays. Watercraft on the eastern side of Saguaro Lake is prohibited from creating wakes & must observe buoys.8
Directions: Exit 199 off N. Beeline Hwy. (87) onto N. Bush Hwy.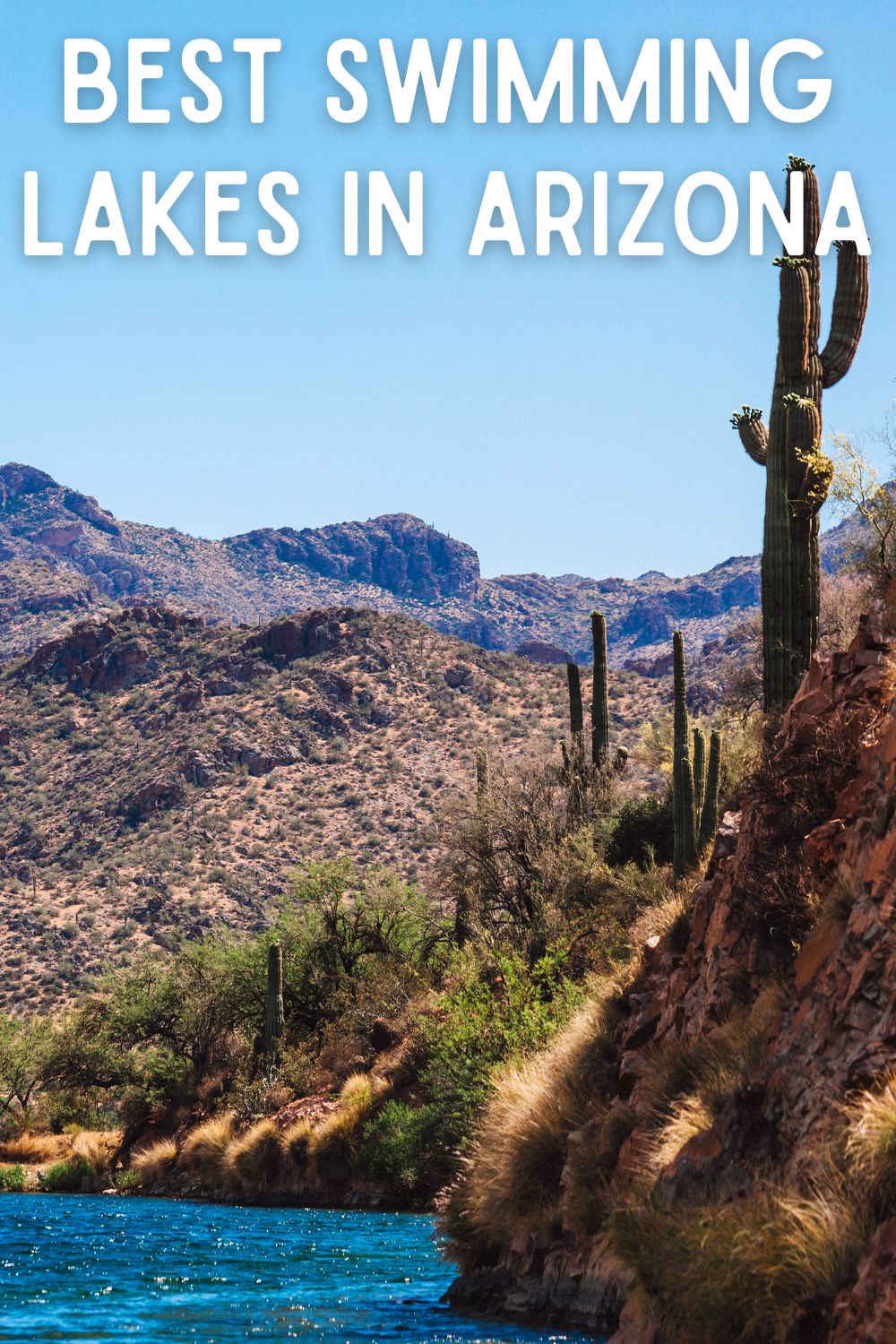 Resources