Uncover the Magic of Lake Mead National Recreation Area In Arizona
Lake Mead Arizona side, part of the Colorado River sourced lakes, is worth a look. It has everything you normally want for enjoyable activities. But many in Arizona don't seem to think of it as much. They think of Lake Powell all the time, but not so much Lake Mead.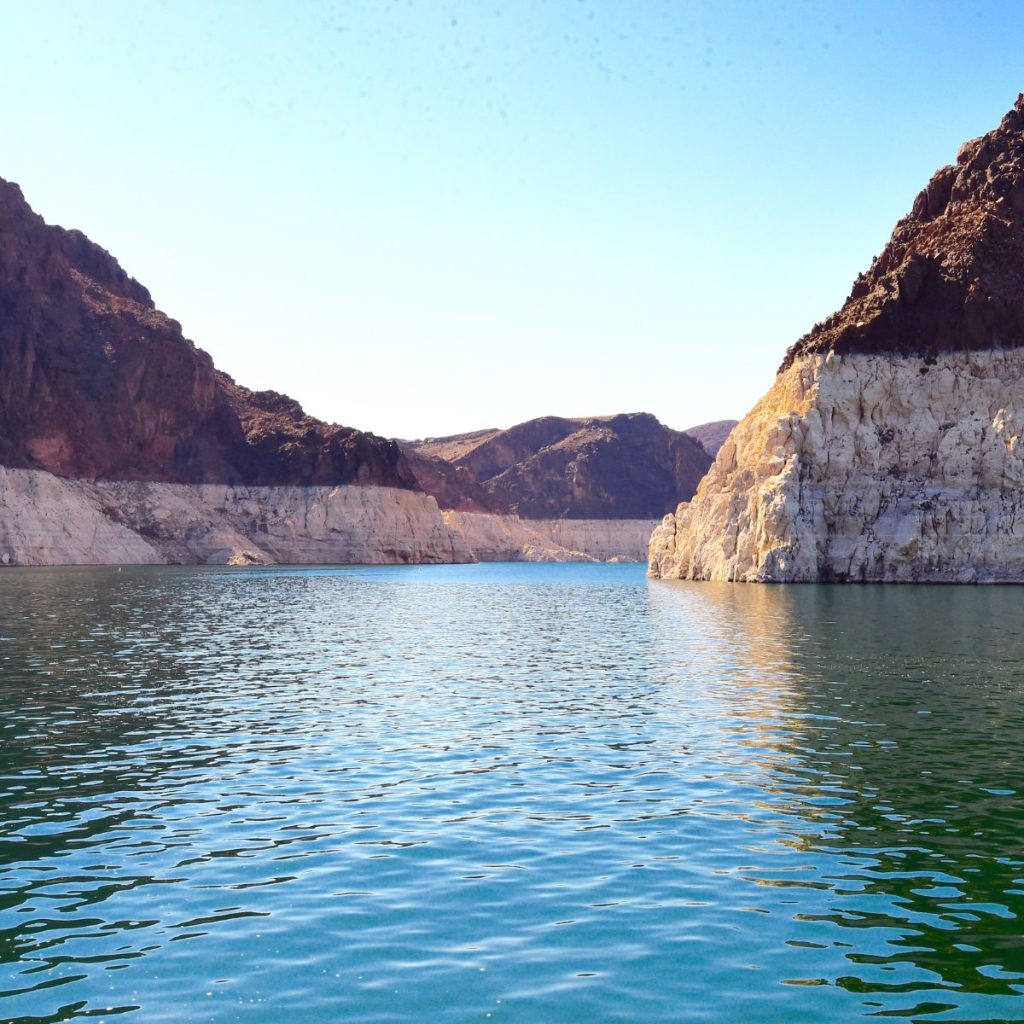 Table of Contents
Lake Mead National Recreation Area
Lake Mead national recreation area is a vast wilderness area located on the border of Nevada and Arizona and is home to Lake Mead and Lake Mohave. These two man-made lakes were created by the Hoover Dam and offer a unique blend of scenic beauty, recreational opportunities, and cultural significance.
With over 1.5 million acres of stunning desert landscapes, crystal-clear waters, and diverse wildlife, Lake Mead national recreation area is a must-visit destination for outdoor enthusiasts and nature lovers.
Whether you're looking for an action-packed adventure or a peaceful escape, this incredible recreation area has something to offer everyone.
We have some Lake Mead facts for you. To think of getting to it from Arizona. The opposite side is in Nevada. That's where most of its publicity comes from.
Lake Mead Directions
Lake Mead Arizona is along the Colorado River, made from Hoover Dam, at the state line bordering Nevada. In Arizona, Bullhead City and Kingman are the nearest towns. Both of them take you to Lake Mead when you orient yourself to those towns, off Interstate 40. In Arizona, to Lake Mead Directions:
From Kingman, State Highway 93 North brings you to Lake Mead National Recreation Area. Depending on your destination desire, choose various side roads along there:
To South Cove/Colorado River – Make right in Dolan Springs onto County Road 25/Pierce Ferry Road (gas station on corner). When reaching Diamond Bar Road, bear left for County 25, still following Pierce Ferry Rd. (Note the Joshua Tree Forest here!) past Ranger Entry station. Make a left turn onto South Cover for the parking lot 4 miles beyond. Small "beachy" spot for a cautious Lake Mead swim or fishing. OR continue on Pierce Ferry Rd. to Pierce Ferry – see next:
To Pierce Ferry – Follow the above Directions to South Cove, but don't turn onto South Cove. Continue on Pierce Ferry Rd. Approximately 4 miles there are two hairpin turns, then shortly to Pierce Ferry Boat Ramp. A common take-out point for Colorado River Rafting. But also nice views of the Colorado River.
To Grand Canyon Skywalk – It's not in/part of Grand Canyon National Park. Follow "a" South Cove directions above. BUT at Diamond Bar Rd. (at the Joshua Trees), turn right (County Road 261). It eventually becomes Local Route 7. When Grand Canyon West Airport is in view, the entrance is ahead. The Hualapai Indian tribe owns this tourist attraction, though it's controversial within the tribe, and for others.1
To Temple Bar Basin – Easy-peasy! Just make a right onto Temple Bar Rd. (County Road 143). Watch for the turn shortly after the windmills on the right. Then it's 27 miles to arrive at Temple Bar's facilities. There's a pleasant basic campground with fire pits/grills, picnic tables, restrooms, water available & dump station. A Mobile Home Park with rentals, and a Marina. There's also a bar. Thing is, with lake levels, and summer heat (if then) – definitely Check Ahead before driving out there.
Willow Beach Entrance Road, 4 miles North of Temple Bar Rd., left turn. Park Ranger Station, then a 4-mile drive to Lake Mead Arizona National Recreation Area, on Black Canyon Lake. Facilities here: campground, picnicking & marina. Boat rentals include kayaks, canoes & other small craft. Also a camp store, restaurant & gift shop. No cell phone signal, but wi-fi at the marina.
Hot Spring Trailhead – For experienced hikers, a demanding, winter-time slot canyon 5 to 6-mile round-trip hike. Watch for Trailhead Exit on right, past mile marker 5. Vehicle parking is there at the trailhead. (While there, if not doing the trail, check out the Historic White Rock Canyon Bridge that's there). There are three Trail choices: Hot Spring Canyon, White Rock Canyon, or Liberty Bell Arch.
Hoover Dam – Take Exit 2 on the right onto Kingman Wash Access Road, make the first left, then as the road ends, make a right. Follow it out bringing you to parking areas, overlooks, and the Dam itself. The Visitor Center is across, on the Nevada side.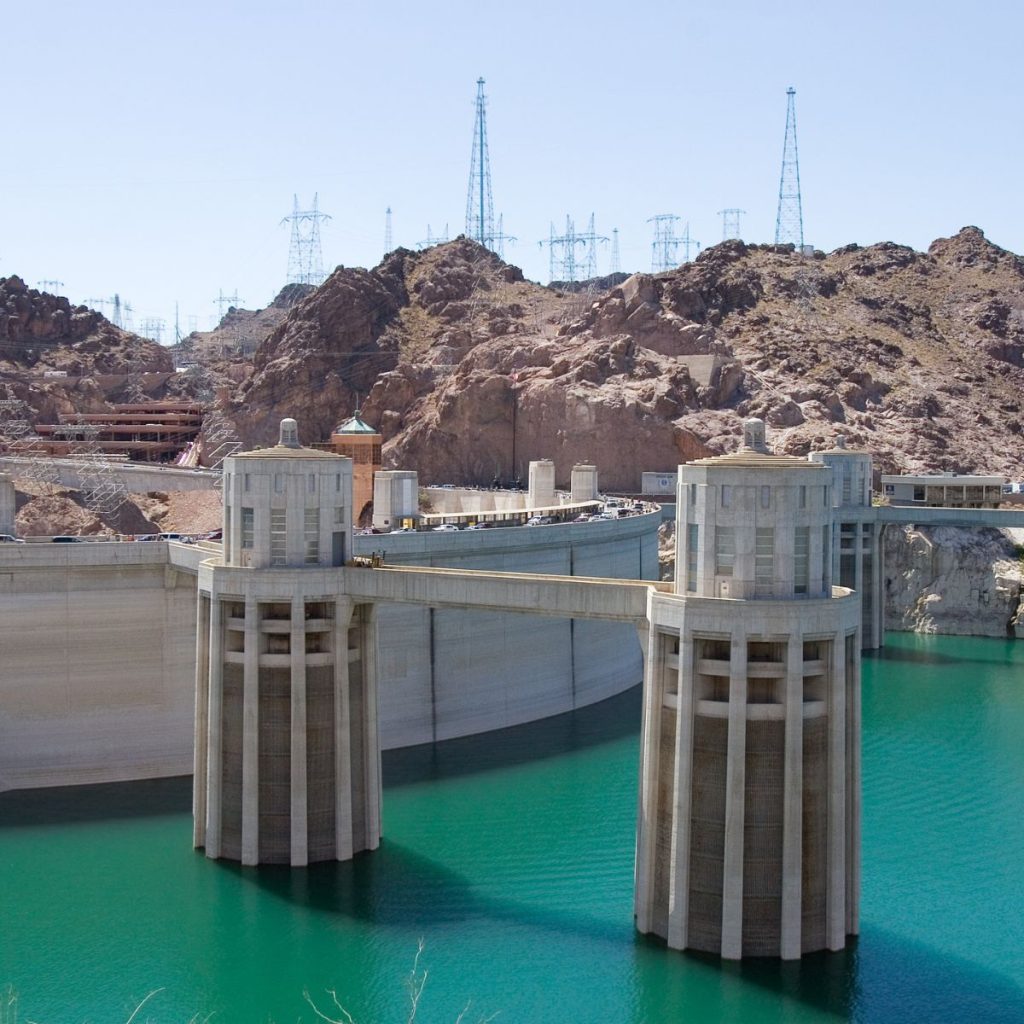 Below Hover Dam – Down River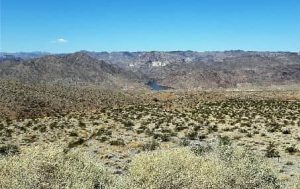 County Road 68, to & from Bullhead City, but also to the Southernmost part of Lake Mead Arizona's National Recreation Area: Katherine Landing, the Telephone Coves & Princess Cove. These are all on Lake Mohave.
Still off of State Hwy. 93: Willow Beach on Black Canyon Lake – See "Willow Beach" above.
Lake Mead Fee
Lake Mead National Recreation Area has entry fees that vary depending on timing, vehicle, and activity. Some discounts are available.
Lake Mead Arizona Entrance stations are locations to purchase entry when on the road if you don't already have a pass. Have your ID available to pay your fee, good for seven days:
Individual: Via bicycle/on foot – $15, Motorcycle – $20, Other Vehicles – $25
Vessel: $16, With Senior/Access Discount – $8
Camping: Regular sites are only first come, first served
Per Each Regular Site – $20 per night, $10 per night With Senior/Access Discount
NOTE: If you regularly use Federal Parks for recreation, Passes are a super value. We ourselves purchased a lifetime Senior Pass. Well worth it! See which is Best for You.
Things to Do At Lake Mead Arizona
If you love lake swimming or camping, lake boating, or lakeside beaches, Lake Mead has activities that keep your exuberance at the level you want! Let's find them.
But first, be aware of the weather – wherever you're going around Lake Mead National Recreation Area. Knowing about Lake Levels is important too. Keep exploring – we've got it for you!
Lake Mead Weather
Lake Mead has the Mojave Desert environment. Deserts have the extremes: very hot in summer and can get quite cold in winter. The desert climate influences the weather. Plus the Southwest Climate of the United States adds a certain flavor to that as well.
In particular, the possibility of flash flood dangers during the Summer Monsoon season. That's something to be aware of.
With Lake Mead being primarily in the Mojave Desert, overall, it gets the least rainfall of any desert clime in Arizona. What does arrive, is usually from winter storms off the Pacific. Left-over precipitation, after dumping most over the California Sierras.2
Lakes Mead's summer temperature average range is in the low 100s, Fahrenheit. It can climb as high as 110o, or even more.3 With so much strong sun beating down much of the time, that's another factor to consider – no matter the season. If you come on over in summer – you must keep safety risk factors in mind.
The seasons to consider for your easiest enjoyment are probably Spring and Autumn. Temperatures are milder, and the days are pleasant. Even on warmer days, it cools down at night. Rain can virtually be discounted!
Winter is also nice if colder. Daytime high temperature hovering in the high 50s to low 60s. The nights will drop to near or at freezing. If you see any rain, this will likely be the time for it.
---
Lake Mead Water Level
You've probably heard of Lake Mead waters becoming lower. Actually quite a bit below normal. It's been a secondary effect of the Western States' Drought. Many lakes are feeling the pain from the lack of rainfall. People wonder how the lower levels at Lake Mead may be affecting water sports and other recreation. Could it affect fishing?
Throughout its history, Mead's water levels haven't gone as low as they are now. The Colorado River, which feeds it, has seen severe cutbacks. It's also drastically affected the levels of Lake Powell, upstream toward the center of Northern Arizona. The Virgin River is also a feeder river to the lake.
You can monitor it in several ways.
1 – Follow the trend in flows from the two combined rivers streaming water Into Lake Mead
2 – View the water level at Hoover Dam calculation by the Bureau of Reclamation
3 – Visualize the lake level in Graphic Form Here
---
Lake Mead Boat Rental
Marinas on Lake Mead have watercraft for rent. But more than that, be sure to remember boating safety concerns and other boating requirements.
First, consider that boating Lake Mead inevitably takes you over two state borders. Thus two different law applications are on you. They include who can actually pilot the craft. Incorporating both states' laws:
Pass Nevada's Boater Proficiency Course
If Towing a recreational device like waterskis, the minimum age is 16 OR 14 age with adult onboard supervision
Ages 12 & Under must wear life jackets on board unless within a cabin
If Within Arizona Shorelines Only: ages 12 & 13 can pilot boats over 8hp, and don't need Nevada Course (neither does anyone else)
Exceptions: Under age 12 okay if in Arizona accompanied by 18 years & older adult, or in emergencies
Arizona's Lake Mead Boat Rental is available at marinas. Private business concessions operate the various marinas at Lake Mead Arizona. Crafts available are sports, pontoon, & fishing boats. You can arrange a houseboat.
Other fun options are personal watercraft (kayaks, canoes, runabout water scooters), paddle craft, plus items like tubes, waterskis, or wakeboards & other fun water sports items.
Temple Bar Marina serves the south side of Lake Mead. If you rent there, you can breeze into so many hidden coves and sandy beaches you can't get to any other way.
Their Full-Service Marina provides a launch ramp. Reserve your boat: 855-918-5253.
They have lodging, RV full hook-up spots (call for info/reserve 928-767-3211), a store & café with a bar.
Other marinas are on Lake Mead's Nevada side:
Lake Mead Cruises – On the Desert Princess Paddle Wheel. A variety of cruise choices with meals if you'd like. Three decks, to view Hoover Dam & other sights.
Boulder Beach Vicinity: at Hemenway Harbor, Las Vegas Bay – 490 Horsepower Cove Rd., Boulder City, NV.
Lake Mead Marina, Call 702-293-3484
Las Vegas Boat Harbor Marina, (family owned), 702-293-1191
Callville Bay Resort – To reserve call 800-255-5561.
Their marina offers houseboats, small boats & personal craft rentals.
They also have RV sites with all amenities. Plus a store, restaurant/bar.
Echo Bay – Reserve at 702-293-2540. Adjacent to RV park.
And check Lake Mead National Recreation Area, below Hoover Dam…
---
Which Lake Mead Beach?
Lake Mead Arizona beaches are really nonexistent. From the Arizona side, with a boating vessel's swim ramp, you could swim from there.
If boating, you might find a lakeside sandy beach, only accessible by boat. But always use caution.
From Arizona, we can recommend Lake Mohave & Black Canyon beaches. There are seven quite nice, even sandy beaches.
Quick Look at Other Colorado River Lake Beaches
If you intend to stick with Lake Mead, cross over to Nevada.
Then locate the four rocky Lake Mead Beaches along the Southwestern shores.
Via AZ State Hwy. 93, cross into Nevada to Interstate 11, shortly Exit 172 onto Business 93. Make right onto Lakeshore Rd. After Entrance Station, all beaches are ahead:
Canoe/Kayak Beach
PWC Beach
Special Events Beach
Boulder Beach
---
Lake Mead Camping
You'll find nice camping spots around Lake Mead National Recreation Area. The National Park Service or private concessions manage Arizona campsites to choose from.
Backcountry camping is available for those loving the off-the-grid, roughing-it type of Lake Mead Arizona experience. Go out amidst the million acres of mountains in this vast area!
The Lake Mead National Park Service campsites are nicely situated, but RVers should know there are no hookups. Most individual sites are first-come/first-served.
Temple Bar Campground – 71 sites, most well-shaded, with picnic tables. No showers. However, amenities are available nearby at the marina.
More National Park Campsites Below Hoover Dam
And on the Nevada Side of Lake Mead
In Nevada – On Lake Mead.
Boulder Beach Campground (info: 702-293-8906 weekdays 8 am-4 pm);
Las Vegas Bay Campground, Callville Bay Campground, or Echo Bay Campground (info for these: 702-293-8990).
Below Hoover Dam, on Lake Mohave, Arizona
Cottonwood Cove Campground near Laughlin NV & Bullhead City AZ. 45 sites (info: 702-293-8990 or reserve via recreation.gov)
Concessioner Campground On Lake Mohave, Arizona – Katherine Landing. 157 sites with no hookups/showers. But nearby access to their marina & RV park also gets you use of assorted amenities. (Info: 928-754-3245).
---
Is Lake Mead Dangerous?
The danger in parks is often what you yourself make it. Using safety precautions, and acting responsibly. The most common dangers in all U.S. National parks are:
drownings
vehicle accidents
falls3
Whenever people are in/on the water, there can be a danger. Why is that?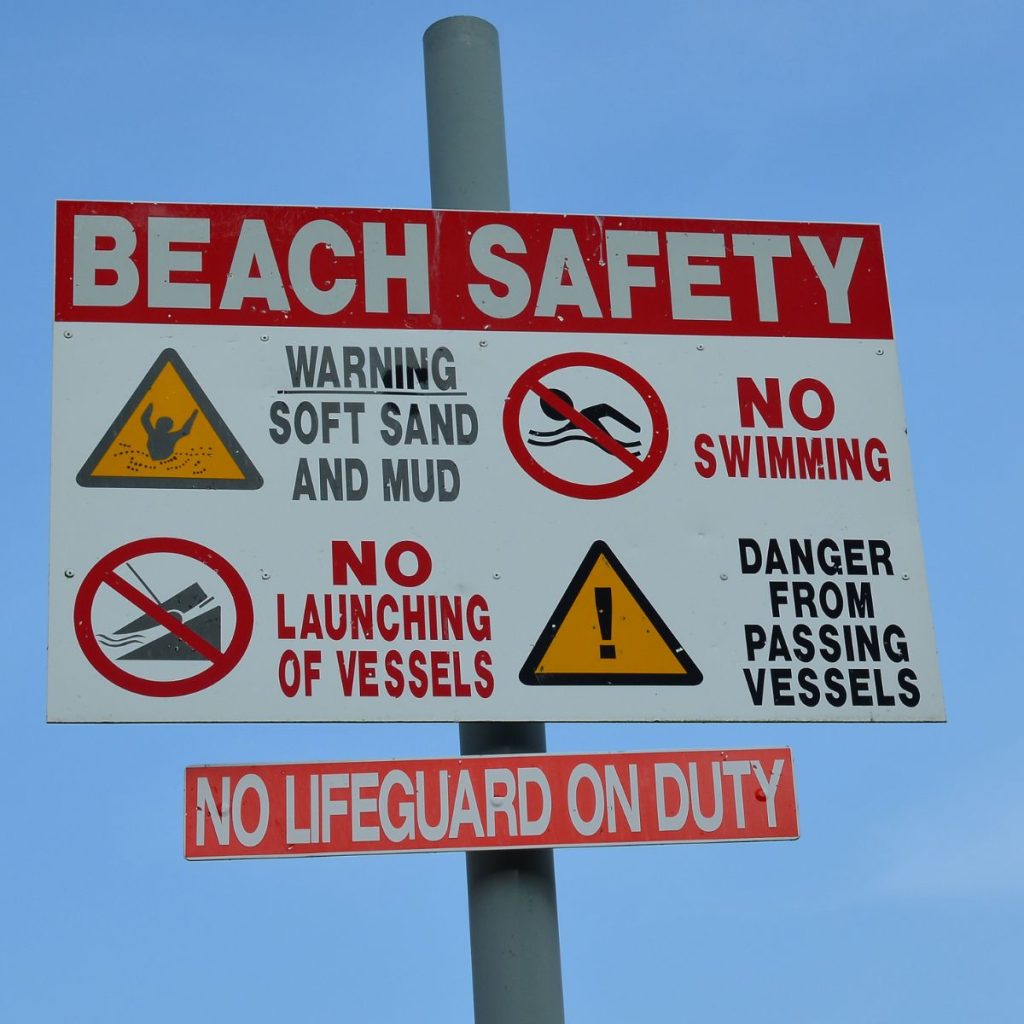 Swimming Safety – If you're visiting Lake Mead Arizona specifically for swimming, remember these precautions
Drowning Danger – About 25 drowning deaths per year happen in Lake Mead. Arizona people mourn over such a statistic.
Take into consideration that Lake Mead NRA is 3rd most visited in the U.S.: 7 million visitors/year. In all nationwide parks, it's a continuing problem, as the most life-threatening situation.5
Please know you're on your own, swimming in Lake Mead, there are NO life-guards. Swim there at your own risk, you'll acknowledge this. So you must swim responsibly, taking sensible precautions.
Swimming Safety Tips
Slather all with minimum SPF15 sunscreen.
For children: please always be attentive to them, don't let another child supervise, and ensure they ask permission to swim. Keep a good lookout, and have no distractions when supervising children.
Young children/inexperienced swimmers should wear Coast Guard-approved life vests.
Don't mix alcohol with swimming, but drink water regularly, even without feeling thirsty.
Know the weather forecast. Lightning strikes when you're in water are dangerous.
Always swim with a buddy, not alone!
Know how/when to call 911 or the Ranger.
Enroll in Red Cross water safety courses.4
Beware of watercraft.
Swimmer's Itch – It comes from a parasite near shorelines, in warm waters during summer.
This flatworm's lifecycle requires waterfowl. In searching for ducks or geese, it may instead burrow into people's skin.
But it can't survive, since you're not waterfowl!
So on us (about 1/3 of people react) it can cause irritation: redness, itching, swelling & hives. Lasts about 7 days.
Precautions are: immediately toweling off well, avoiding slow-moving low water & not swimming during on-shore windy days.
It's not known to be dangerous, but with a concerning rash, consult your physician.5
Blue-Green Algae – Very rare, but there could be an outbreak in lake water.
Blooms can happen in summer. The lake is monitored.
Watch for green streaks or blobs floating in the water. If seen, please report it: call 702-293-8998.
Then do not enter or allow children in.
If fishing, pay attention to cleaning very well.
Allergic reactions have occurred, so be aware.6
---
References