Uncovering the Secrets of Arizona Climate
When you think of the Arizona climate, what comes to mind? Probably desert! That's what we thought, way back, before moving here years ago. We realized shortly after marriage, that we wanted to move out West. Bill put some artwork on our fridge, to reflect the area surrounding where we might end up.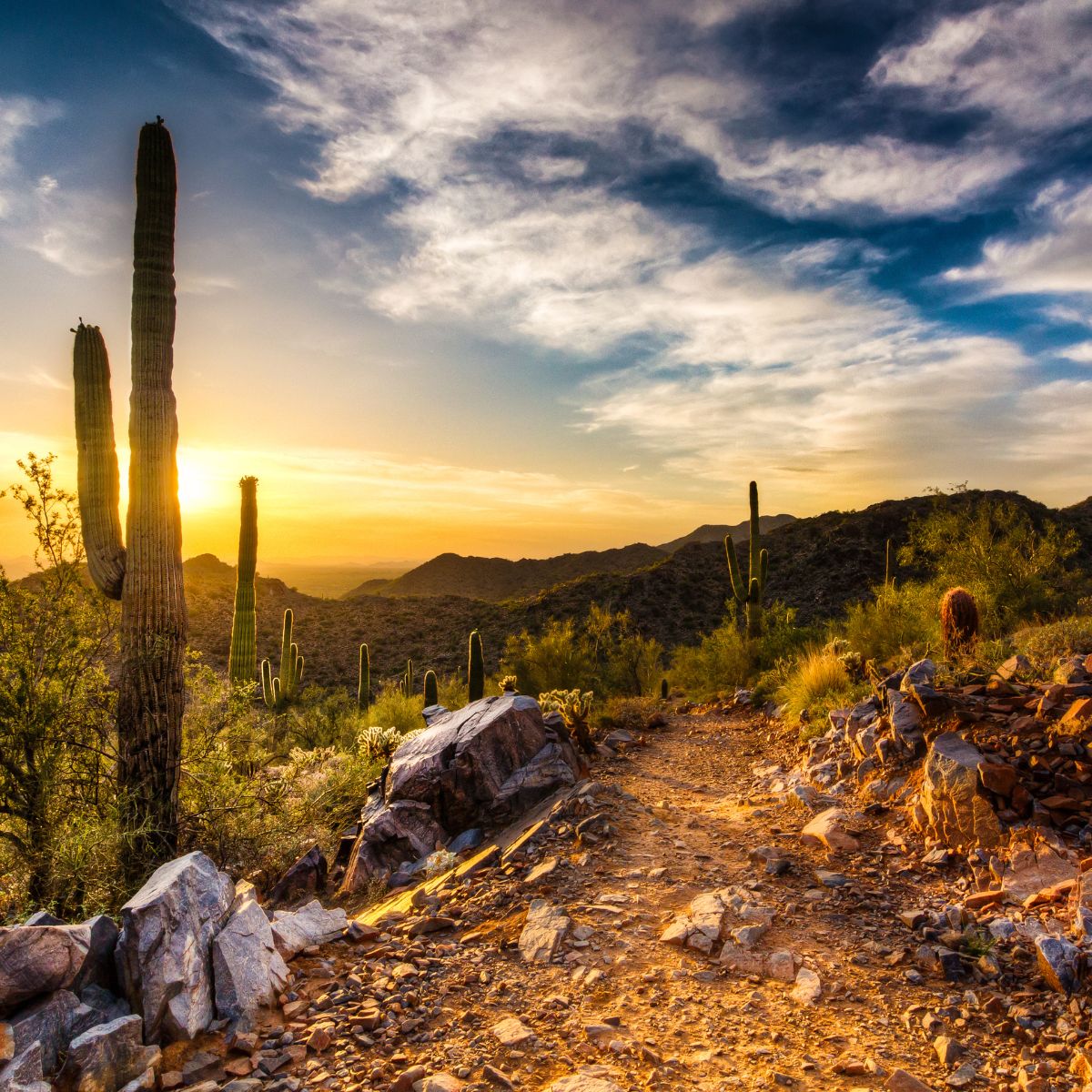 We'd not been that far out that way before! We'd only been as far West as the Texas Hill Country. We didn't really understand the Arizona climate. We learned much more about it after moving here.
Actually, the scene on our refrigerator is true. Only it's around the 4-corners part of the state, the very northeast. Not where we chose to live – in Tucson. But we'd like to let you in on the true climate reality of our adopted state of Arizona.
Are you planning a visit, a vacation, or maybe even a move? A project?
We know Arizona and can help you with what you need to know. What is the Arizona weather really like?
Table of Contents
---
Secrets of the Arizona Climate
Dry Climate – Low Humidity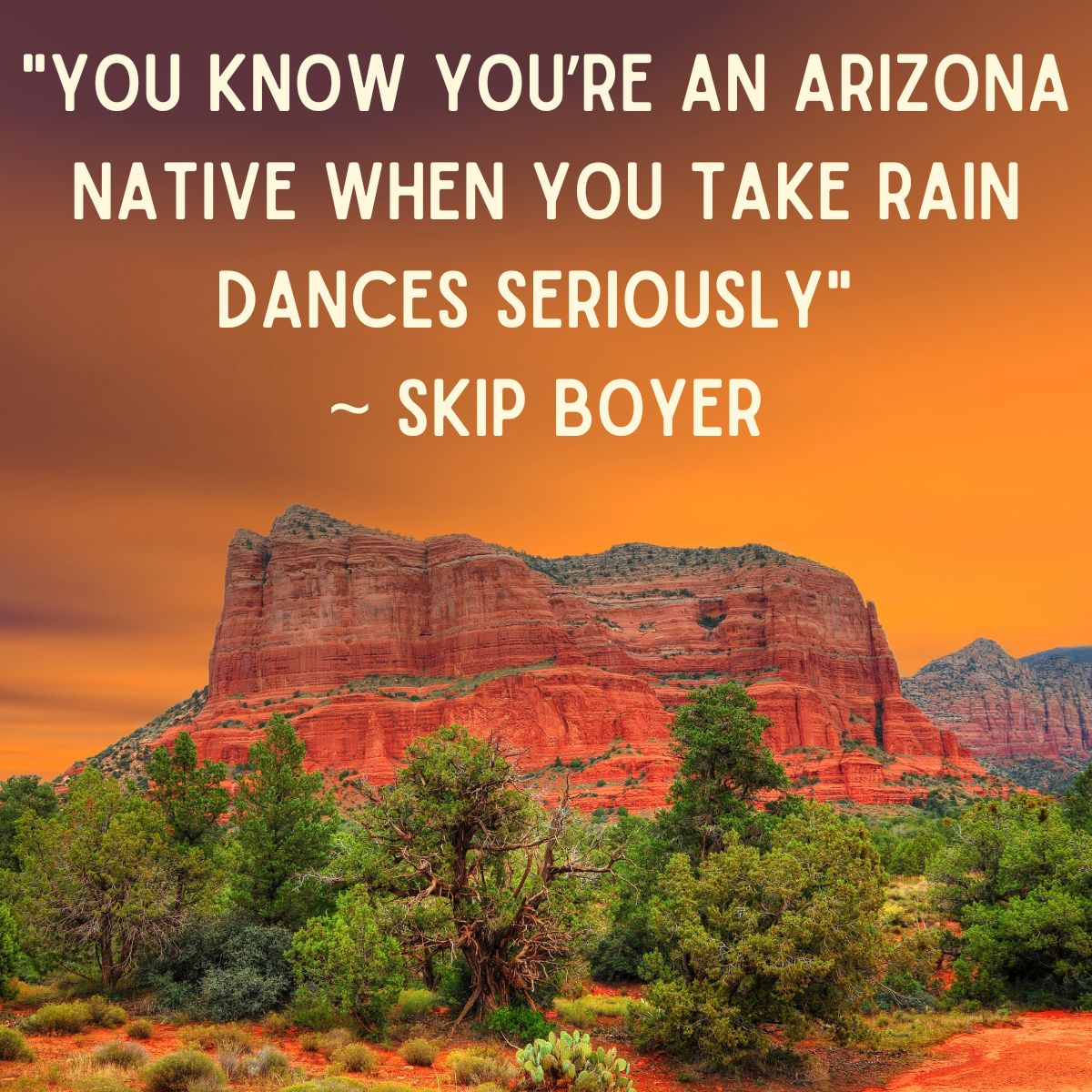 "You know you're an Arizona native when you take rain dances seriously" ~ Skip Boyer
Most of Arizona is categorized as arid or semi-arid. So what does that mean? Determined by the amount of precipitation, which means these areas get very little.
To figure out which is which, they calculate average annual totals of rain/snow:1 Although, in the arid/semi-arid regions, snowfall is rare. But don't discount Snowfall in Arizona!
Arid Arizona's Climate Data
Arid areas get less than 10 inches of rain on average, over time. The city of Phoenix itself, is in this range, with a recent average of just over 7 inches per year. Factor in the immediate suburbs, and it increases about an inch more.4
Even arider, the southwest part of the state in this region, often gets less than 4 inches per year.2 For instance, Yuma gets about 3.3″ a year. Bullhead City gets an average of 5.4″ per year, and  Lake Havasu City averages 4.2″ a year.4
---
Semi-Arid Arizona's Climate Data
These areas get between 10 and 20 inches over time on average. Tucson, where we live, is in this range. Usually a bit over 10 inches. An exceptionally good Monsoon Season, can increase it somewhat higher.2,3
Much of Cochise & Santa Cruz Counties are also in this range.
Here west of Tucson, there's a common saying around here where we live, about the Arizona Desert.
About the comfort here: "It's a Dry Heat!" People often repeat that while sarcastically laughing, such as the quote here from the late comedienne Joan Rivers: "eight hundred degrees outside and everybody's always saying, 'But it's a dry heat!' So's the inside of my microwave."
I mean, it's true to an extent. I noticed it when we first came west, way back.
That a 90-degree day with 15% humidity was more tolerable than an eastern day of 80 degrees with 90% humidity.
Desert Humidity
Absolute humidity is the best measurement for determining comfort level in hot temperatures.
It's the sensible method for figuring out evaporative cooling, which is your own personalized body-AC in the desert. How does evaporative cooling work?
Sometimes when you sweat on a hot desert day, you barely notice you're sweating. But yet it's cooling you down.
Air with low humidity just sucks that water vapor right off your skin. As the sweat evaporates with you barely aware, it's cooling you off to some degree.
As noted in the film, high humidity doesn't help that evaporation to cool you down.
The perception difference in feel is definitely there. But still… it is a Desert Arizona climate. And there are other factors to consider.
---
What is a Desert?
A desert is purely defined as an area with scarce quantities of precipitation. An area of consistent aridity.
When some type of moisture condensate does come, it does so intermittently. That leads to specifics in the flora and fauna of a desert area. The plants and animals have adapted to arid circumstances, and are unlike that in non-desert areas.
Thus, you can say that a desert is one extreme of the earth's environments.5,6
Many deserts, but not all, experience regular periods of exceptionally high temperatures.6 The southwestern U.S. has deserts in this situation.
Although some experience those temperature extremes in different ways, at different times, with different ranges.5 And considering all the deserts of the world, there are varied categories of deserts:
Subtropical
Between latitudes, North & South, from 20o to 30o. These areas are in zones where high-pressure circulation often dominates to influence the lack of rain and high temperatures.5 
Areas of Northern Africa, such as near Cairo and in the Sahara Desert, are examples of this type of desert. Small parts of the Sonoran Desert in Mexico also qualify for this desert area.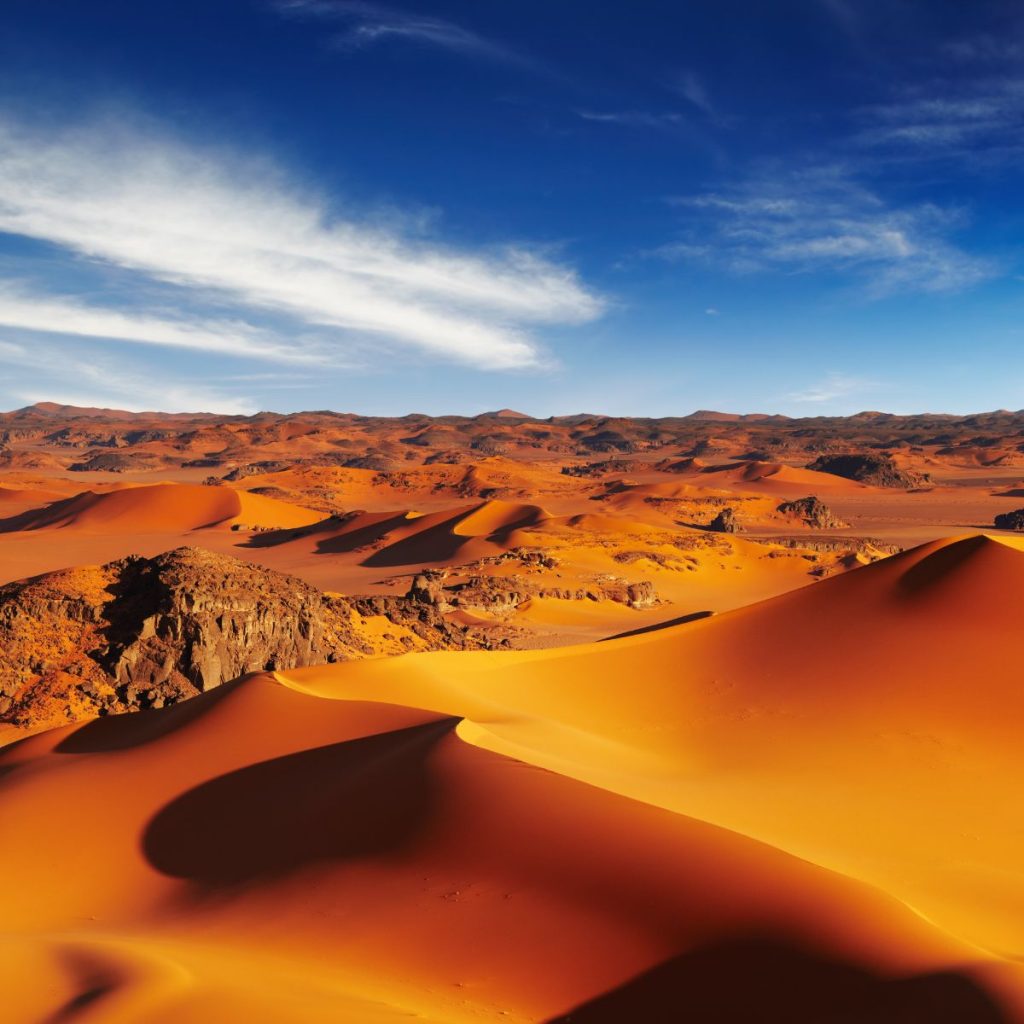 ---
Rain Shadow
Those on the inward side of mountain ranges, separated by the range, away from large bodies of water. Moisture tracks in off the waters then rain out over the mountains. Leaving little leftover precipitation when the systems move into inward valleys.
An example is the Saline Valley in Death Valley and areas of the western Great Basin in Nevada. These are on the eastern side of the Sierra Nevada Mountains.
---
Coastal
Normally adjacent to the ocean's west coasts, with cold currents that cause rain-out over water, rolling only fog onto the land.
Thus extremely little rain. Chile's Atacama Desert is a prime example.5,7,8 Probably the world's driest desert!
---
Polar
In northern and southern artic areas, near the poles. Where it's not only very cold but dry. Therefore very little snowfall, or rain.
An example is the Artic Tundra Desert, a little over 62,000 sq. mi. located north of 75oN latitude. Yearly getting less than 10 inches of snow (uncommonly, rain), which rarely melts.
Thus it builds year over year, and they're always cold!5,7,8,9
---
Continental Interior
Well within a continent, away from seas or oceans.5 These can be influenced by various weather local patterns, for whatever moisture comes their way.
An example is the Chihuahuan Desert, which has summertime monsoon weather systems offering precipitation.
Northern parts start in southeastern Arizona and extend through much of New Mexico's lower elevations into western Texas. Then reaching south into Mexico's Northern Zacatecas.7
---
How to Manage Arizona Weather
People living here learn how to manage the Arizona weather to their advantage.
As Arizonans, we have some recommendations for you. They more or less apply to some of the adjoining states with deserts, as well.
So if you're planning a trip to Arizona (Well worth it! Highly recommended!), we have some tips for you when traveling to Arizona – Climate Wise!
Choose The Best Time Of The Year For You
Can you really, really, really NOT take any kind of heat? Like you feel faint when the temperature gets above 84oF! 
Then only travel to Arizona's climate style in the winter.
You'll love it: daytime temps in the 60s/70s. Usually 30s/40s/50s overnight. Mostly sunny. 
But occasionally a winter snowstorm arrives in the mountains, or atop the Mountain Islands! 
Another excellent time is autumn. Temps are moderate, the 80s, still some low 90s, absolutely gorgeous evenings. 
What We Don't Recommend: Springtime. People often may think that's a good time because it's a nice time of year in many places. But we don't care for it & try to get out of here that time of year! 
Why is Spring not Recommended? Weather systems blow through off the Pacific heading east. But they're tracking through northern states: Northern Utah, Idaho, Montana, etc.
How it affects AZ: the system drags constant nasty, annoying wind to the South. Not nice breezes – but as I said, just annoying, whipping & yucky.
If Summer Is Your Only Time
Manage your Arizona climate areas, things to do, or times/places to go.
The Monsoon Season is a wonderful time to visit Arizona during. That season runs approximately from July-Sept. Personally my favorite time of year (I like the warmer weather!). 
Yes, it's still warm, but it's moderated by cloud build-up beginning late morning to noon. Then starting in the early afternoon & onward, some nice cooling thunderstorms start coming in. 
The temperature can drop 15oF within 1/2 hour!
During this time, the temps often stay under 100. Definitely not the summer's hottest months (June is!).
And you'll be treated to rainbows, light shows & colorful cloud/rain/sun displays.
---
More Arizona Desert Climate Management Tips
Elevation Matters
The higher you go, the cooler it will be. Phoenix/Yuma = low elevations, Tucson somewhat higher, Tombstone higher yet, Bisbee even higher! What's the highest of all? Flagstaff and anything in the White Mountains. 
Try an adventure, like camping lakeside on a Sky Island. Special places throughout southwestern desert areas, where you change your entire Arizona climate within an hour or so! 
Like taking Mt. Lemmon Hwy. in Tucson into the Catalinas! Changing your elevation from about 2400′ to over 9000′ up.
Or drive up to the White Mountains, or Flagstaff.
So, in Arizona, if you don't like the temperature outside, change your climate by changing your elevation!
Avoid Outdoor Activities
If possible, make plans for indoors. 
But, if you're outside some of the time, stay in the shade as much as possible.
Be sure to have water, wear sunscreen & sunglasses & likely a sun hat. The sun here is very strong (no matter the time of year!).
Make Plans for Late in the Day or the Evening
When possible, if your event timing is flexible. Temperatures normally start dropping soon as the sun lowers toward the horizon. Once the sun sets, then temps drop even more. 
It's been known to drop as much as 10-15 degrees at some point after sunset.
Very early morning is also another option before the sun really heats up the air.
Plan Cooling-Off Activities
Like going to the lake, camping or picnicking in the mountains, swimming, and having some fun with water sports. 
Anything you like to do, but doing so up in the mountains should be A-OK! Such as hiking or fishing. Maybe have a Lazy River vacation?
We Love You Arizona!
Hope we've helped with our suggestions. Locals have always found ways to manage their Arizona climate. We think you can, too. And make the best of a trip to this wonderful, extraordinary state. It has so much to offer!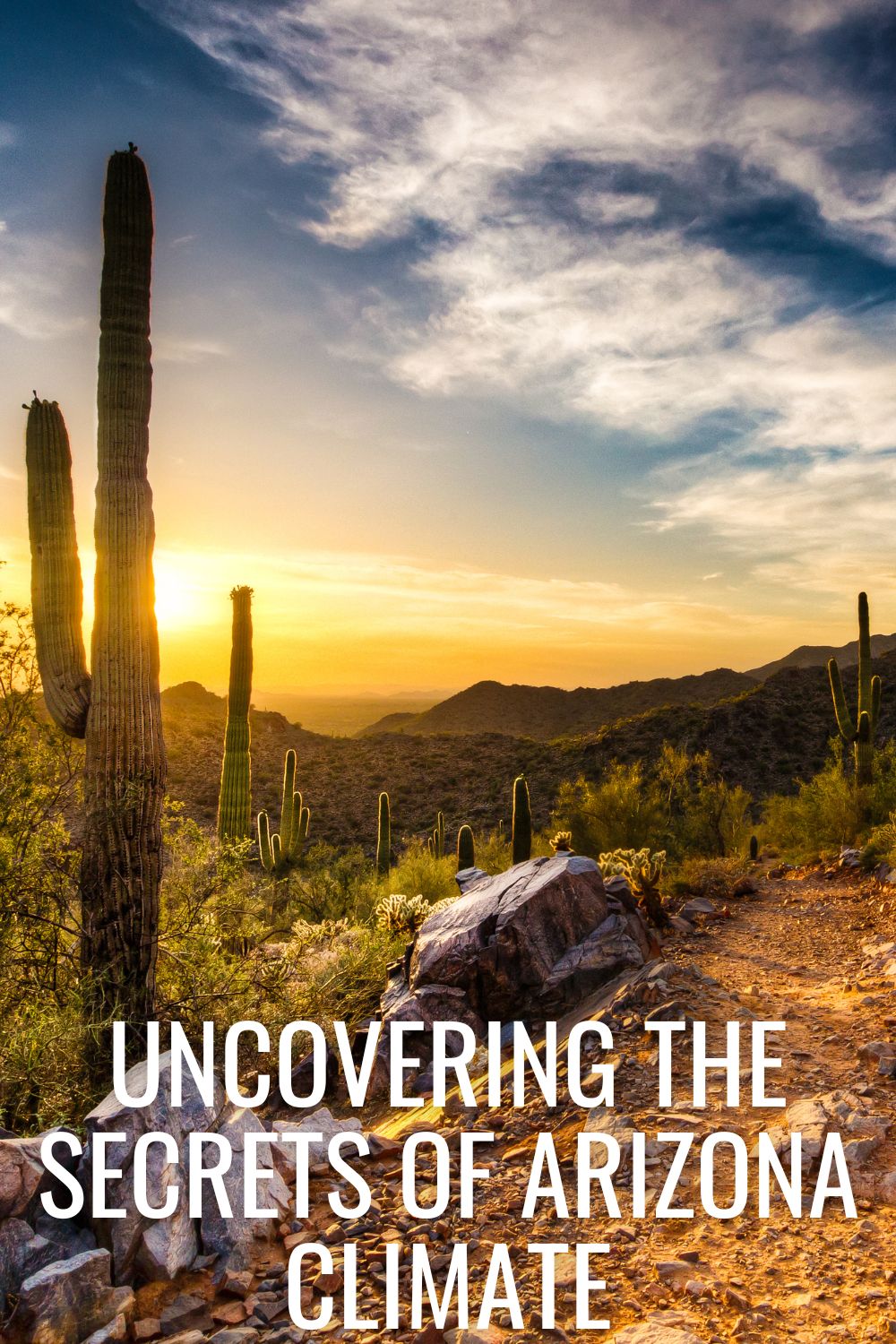 References
1 Geology (n.d.). Arid and semi-arid region landforms. National Park Service.
2 Frankson, R., Kunkel, K.E., Stevens, L.E., Easterling, D.R., Brown, T., Selover, N. & Saffell, E. (2022). Arizona State climate summary 2022. NOAA Technical Report NESDIS 150-AZ. Silver Spring, MD: NOAA/NESDIS.
3 Donnelly, J. (2021, Aug. 26). Tucson passes average annual rainfall total. Weather Alert. Arizona Daily Star.
4 Osborn, L. (2022). Average yearly precipitation for Arizona. Current Results. Weather and Science Facts.
5 Holzapfel, C. (2008). Deserts. In Encyclopedia of Ecology (Second Edition). Elsevier B.V. ISBN 978-0-444-64130-4
6 Walsberg, G. (2000). Small mammals in hot deserts: Some generalizations revisited. BioScience. 50. pp. 109-120. 10.1641/0006-3568(2000)050[0109:SMIHDS]2.3.CO;2.
7 Elias, S.A. (2015) Chihuahuan Desert. In Plant macrofossils from rodent middens: Reference module in earth systems and environmental sciences. ISBN 9780124095489, doi B978-0-12-409548-9.09542-7
8 Nature Works (2022). Deserts. New Hampshire PBS.
9 World Atlas (2022). Where is the Arctic Desert? The Reunion Technology Team.